Tapulous Releases New iPhone Game Riddim Ribbon for Free – With 15 Free Tracks!
Tapulous, the makers behind the highly popular Tap Tap Revenge series of games on the iPhone, has just launched a new rhythm-based iPhone game titled "Riddim Ribbon".  The app is free to download and features more than 15 free tracks such as Far East Movement's No. 1 Hit, 'Like a G6.' Pretty cool huh? Check out the viral video below along with the rest of the details/screenshots in the Press Release below:
TAPULOUS LAUNCHES NEW FREE VERSION OF HIT 'RIDDIM RIBBON' MUSIC RACING APP ON APP STORE
New game launches with more than15 free songs including Far East Movement's No. 1 Hit, 'Like a G6'
PALO ALTO, Calif – October 27, 2010 – Tapulous, part of Disney Mobile, launched today its newest app on the Apple App Store, "Riddim Ribbon. The free apps puts iPhone and iPod touch users in the driver's seat of the hottest new music racing app featuring more than 15 free tracks including Far East Movement's No. 1 hit song," Like a G6." In addition, the app features another 30+ tracks for purchase from top artists such as Lady Gaga, Rihanna, and Taio Cruz in packs of two ($0.99) or four ($1.99).
"Riddim Ribbon" is the perfect mashup of music and racing that has users tilting their iPhone or iPod touch as they speed down a crazy, curving ribbon collecting pebbles on their way to achieving a higher score. Stray too far off the path or hit too many obstacles and players will lose their groove and have to get back in the rhythm. For players looking to shift to a new gear, jump to the upper track and play along to some fresh artist remixes.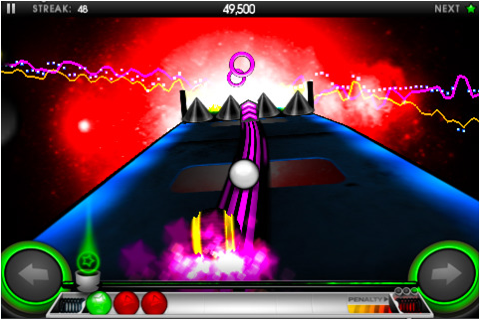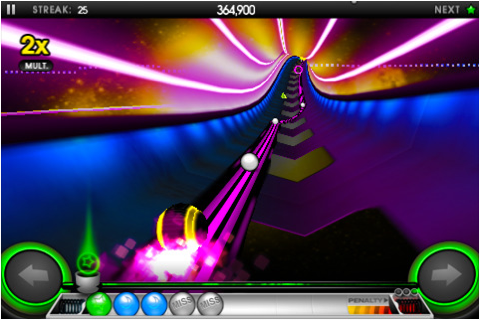 "The first version of Riddim Ribbon got rave reviews for combining hit music with challenging gameplay in a way that was fun and kept users coming back for more," said Tim O'Brien, vice president of business development, Disney Mobile. "Tapulous continues this tradition in its newest version by compiling an unprecedented list of hit songs from today's biggest artists, and making the app free for users to experience the ride."
A sample list of songs available in the app include:
Far East Movement – "Like a G6"
Black Eyed Peas – "Rock That Body" and "Imma Be"
Cascada – "Pyromania" and "Evacuate the Dance Floor"
Yolanda Be Cool & D-Cup – "We No Speak Americano"
Enrique Iglesias – "I Like It" (feat. Pitbull) and "Bailamos"
Fallout Boy – "Sugar, We're Goin Down" and "Thnks Fr Th Mmrs"
Good Charlotte – "Little Things" (Patrick Stump Remix) and "The Anthem" (Million $ Mano Remix)
Gwen Stefani – "Hollaback Girl" and "What You Waiting For (Jacque Le Cont's TWD Mix)"
Justin Timberlake – "Love Stoned/I Think She Knows" (Tiesto Remix) and "Sexy Back"
Lady Gaga – "Alejandro" (Skrillex Remix), "Just Dance," "Poker Face" (Space Cowboy Remix), "Bad Romance" (DJ Dan Remix)
LMFAO – "I'm In Miami, Trick," and "Shots" (ft. Lil Jon) • Passion Pit – "Sleepyhead" and "Little Secrets"
Rihanna – "Disturbia," "Rockstar 101" (Chew Fu Teachers Pet Fix), "Rude Boy" (Chew Fu Vitamin S Fix) and "Hard" (Jump Smokers Remix)
Taio Cruz – "Dynamite" and "Break Your Heart" (Vito Benito FF Remix)
La Roux – "Bulletproof" (Dave Aude Cherry Remix) and "In For The Kill"
"Riddim Ribbon" is available for free on the App Store or at https://bit.ly/riddimribbonfree.
Powered by

Sidelines
Previous Post KONAMI Releases Pro Evolution Soccer 2011 on the iPhone/iPod touch
Next Post Check Out Sega's VANQUISH Flash App at Nine Over Ten 9/10!