Aqua Pearls (iPhone) Game Review: Having Fun Stringing Pearls
You know how games are often derivatives of one or more other games? The same feeling I got when I first played G5 Entertainment's latest game for the iPhone,  Aqua Pearls. It felt  similar to that of Luxor. Both are match-3 games whereby you fire marbles into a train of marbles, matching the same coloured marbles in a combination of 3 or more. However, there's one fundamental difference that separates the 2 games; in Luxor, you fired marbles from the bottom of the screen; but in Aqua Pearls, you shoot pearls from the middle of the screen.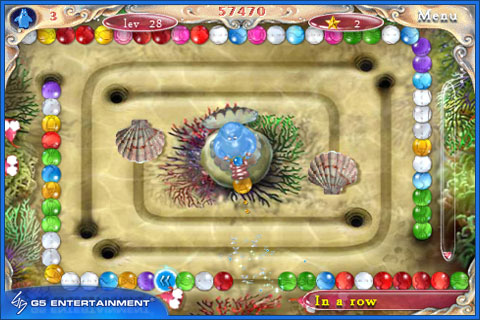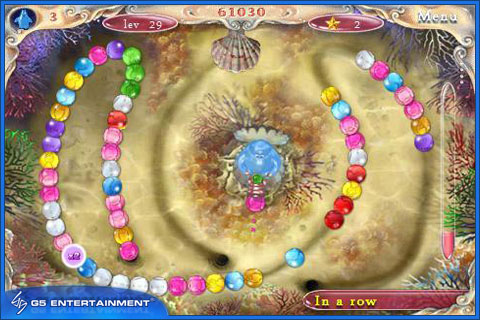 This is important gameplay wise as you get to make use and fire on all sides almost immediately, a luxury that is not found in Luxor, whereby you have to wait for an opening to shoot. G5's polish and attention to detail is definitely present in this game. It's almost as if that the developer has made this game with the intention of having it played on  screen double the size of the iPhone. This would probably be great being played on the iPad considering how small each of the pearls look, blowing them up on the iPad's screen seems like the right thing to do.
The game has four gameplay modes and here lies another interesting thing. The first mode, Puzzle, allows only a limited amount of shots from the player and you must destroy the entire string of pearls before running out of shots. Of course there are bonus items on the string ,mof pearls that can be used to add-on more shots. This mode forces you to be really careful at placing your shots. This mode is followed by the Adventure (level-based) mode and also the Endless mode, featuring levels that are unlocked in the Adventure mode.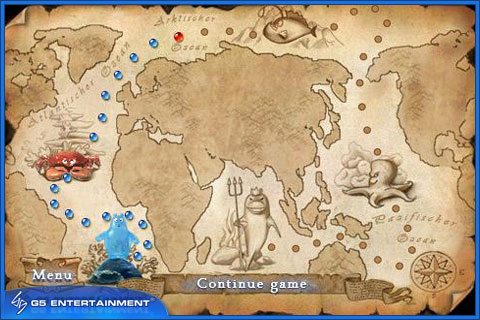 The fourth mode, Strategy, will have players freeing fish trapped in bubbles by combining 3 or more pearls beneath the fish to burst the bubble. That's pretty creative in my book. While I don't see any social gaming network attached to the game, G5's been known to update at least their previous release, Virtual City with Game Center support, so fingers crossed for a Game Center update for Aqua Pearls in the near future.
Aqua Pearls brings an interesting twist to the Luxor match-3 gameplay from which it gained its inspiration from. With 4 game modes, Aqua Pearls has plenty of replay value to boot. Check out the game over at the App Store, it's currently selling for USD 2.99: https://itunes.apple.com/us/app/aqua-pearls/id390649635?mt=8. Recommended.
Powered by

Sidelines
Previous Post Check Out Sega's VANQUISH Flash App at Nine Over Ten 9/10!
Next Post PlayFirst Releases Hotel Dash for the iPhone/iPod touch