Shady Puzzles (iPhone) Halloween Pack Released!
I saw the update for Shady Puzzle (iPhone) (check out my review here) yesterday on the App Store and I promptly downloaded it, with the jack-o-lantern being the new logo for the game during the Halloween period. Check out details on this free update in the Press Release below:
Shady Puzzles: Halloween Pack Now Available for iPad, iPhone, and iPod Touch: Spooky Expansion Pack Free Update for Existing Users; Lite Version Also Offered
(SINGAPORE) – October 25, 2010 – LambdaMu Games today introduced its 6th Puzzle Pack to its popular Shady Puzzles: Super Compilation App for iPad, iPhone, and iPod Touch.  Shady Puzzles: Halloween Pack is now available as a free update for existing users and is on sale until November 1st for $0.99.  A lite version has also been released on all iOS devices.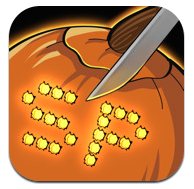 A cross between Sudoku and Minesweeper, Shady Puzzles is a logic game that is deceptively simple: to correctly shade in blank squares. However, players must follow numerical rules for each row and column, leaving a certain number of spaces between each shaded square, as well as limiting the number of squares they shade in. Quirky doodle-style graphics and additional puzzle modes add to the fun, offering hours of challenging gameplay.
Shady Puzzles: Halloween comes with 36 new puzzles for the iPhone and iPod Touch. The HD version comes with an additional 13 super-sized puzzles to take advantage of the iPad's larger screen. Additional Game Center Achievements has also been included across all iOS devices. Players can look forward to releases of more puzzle packs in the coming months.
To download Shady Puzzles, please visit https://www.lambdamugames.com/games/shady-puzzle and click on the App Store button.
Powered by

Sidelines
Previous Post The Road to Redemption: Part 1
Next Post KONAMI Releases Pro Evolution Soccer 2011 on the iPhone/iPod touch