Katy Perry's New Single Firework Debuts in Katy Perry Revenge By Bing (iPhone)
Katy Perry's new single Firework is coming out soon, and if you are an iPhone user, the best way to get an early listening to would be to download "Katy Perry Revenge by Bing". Talk about strange bedfellows. Disney's Tapulous studio creates the iPhone app based on it's Tap Tap Revenge line of games, Microsoft's search engine Bing sponsors it and Katy Perry provides the only track in the free game. Check out the press release below for more details and screenshots:
KATY PERRY'S NEW SINGLE 'FIREWORK' DEBUTS ON APP STORE IN NEW, FREE GAME 'KATY PERRY REVENGE BY BING'
Makers of Tap Tap Revenge Bring Katy's Latest Single to Fans Ahead of its Radio Debut
PALO ALTO, Calif. – October 14, 2010 – Tapulous, part of Disney Mobile, is launching "Katy Perry Revenge by Bing," an all-new, free game featuring Katy Perry's new single "Firework." The one-song game for iPhone and iPod Touch features the latest single off Perry's No. 1 album "Teenage Dream," one week prior to its radio debut.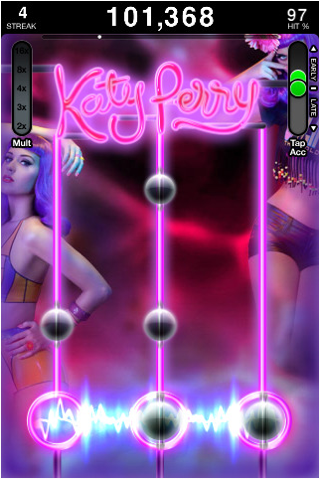 In "Katy Perry Revenge by Bing" players get to choose from four different Katy Perry inspired themes, and Bing, the decision engine from Microsoft, is integrated into the app so players can easily search for lyrics to Katy Perry songs.
"This is the first time Tapulous has included a title app sponsor, and we're excited to have Bing on board to bring fans of Katy Perry and Tap Tap Revenge this new game for free," said Tim O'Brien, vice president of business development, Disney Mobile. "We continue to work with fantastic artists like Katy Perry to create new and innovative ways for people to engage with their favorite music."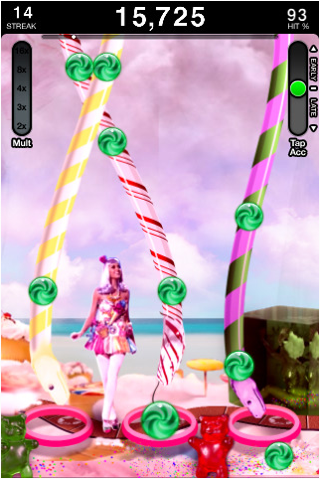 "Bing is proud to be associated with Katy Perry and Tap Tap Revenge," said Wibe Wagemans, global marketing director, Microsoft Corp. "Music and games are among the most popular categories of apps, and we're able to show fans how Bing helps you make more informed decisions by providing the best search experience for topics that are important to you."
"Katy Perry Revenge by Bing" is available for free on the App Store or at https://tapulous.com/redirect/katyperryfree.
Powered by

Sidelines
Previous Post Look-Up! It's an Augmented Reality App for the iPhone!
Next Post Monster Mayhem (iPhone) Game Review