Blacksmith Games Set to Release Floop for iPhone/iPod touch
The indie developer that brought us Plushed and Boostball (read my review here) on the iPhone/iPod touch is set to release their latest game, a casual physics action game titled Floop, on the iPhone/iPod touch. It involves the unlikely premise of shooting a nut into a squirrel's mouth. Check out the following press release for more details on this highly anticipated game from acclaimed indie developer, Blacksmith Games:
Blacksmith Games releases its brand-new game Floop for the iPhone
You don't have to wait any longer! After the successful Apple featured game Plushed which was downloaded more than 400.000 times (free and paid) and several other iPhone games, Blacksmith Games is finally releasing its new game Floop. Floop is a fun and exceptional casual physics game where the player tries to shoot a nut into the mouth of a squirrel. This sounds easy, but wait until you try it – you need to develop some skills and practice to become successful. The nut's trajectory is manipulated by many different obstacles that can be found in the levels.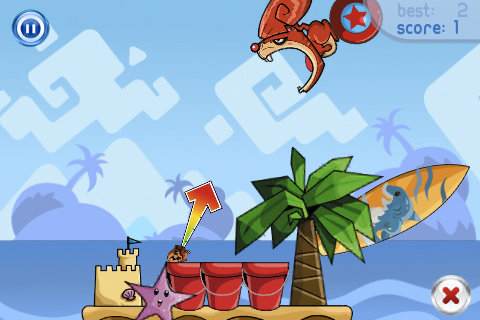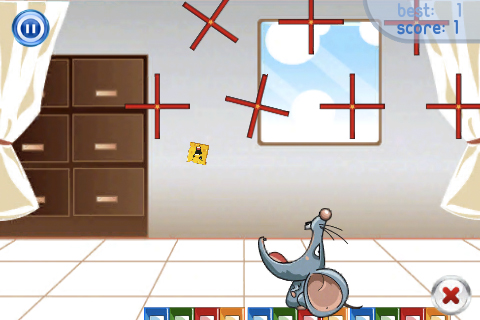 If the nut lands on the ground instead of the squirrel's mouth you have several more tries to shoot it nearer to the hungry animal. There is a lot of variety in the game – the further you get the more challenges and tools wait for you. You can shoot the nut with a cannon or a catapult, you have to shoot wooden boxes, destroy ice boxes, slide on ice, ride an ice speed racer, react on a flipper bumper or avoid spikes,solve puzzles, pressing buttons to open doors, just to list a few.
The game has 50 exciting and challenging levels with 4 different themes (beach, office, supermarket, sport). Floop has a star system which rewards the player with stars after the completion of a level (complete the level as few shots as possible to gain more stars) The number of starts depends on the player's performance in the level. In addition, you get the possibility to unlock new characters which you can choose apart from the squirrel, for example a mouse or an ape, that wait to be fed with cheese or bananas. This feature makes the game very interesting.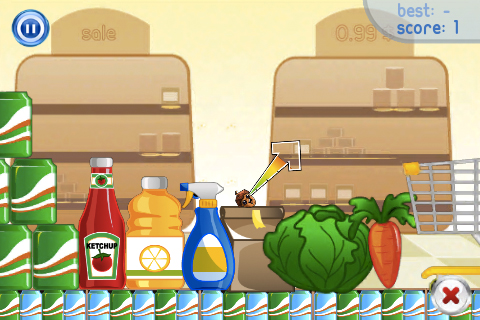 By changing the object, the way the object's physical behavior changes as well. So you have a completely new feeling of playing when you choose, for example, the banana instead of the nut. In addition Floop has a high replay value because players trying to solve each level in least amount of moves. Floop will be released with Apple's GameCenter support, so the players have the option to compare their scores worldwide on leader boards and unlock several achievements.
Stay tuned to Nine Over Ten 9/10 for more coverage on Floop in the coming days.
Powered by

Sidelines
Previous Post Jump O'Clock (iPhone) Game Review: This is Great Stuff!
Next Post Look-Up! It's an Augmented Reality App for the iPhone!