Jump O'Clock (iPhone) Game Review: This is Great Stuff!
Jump O'Clock is one of those games that belong in a familiar genre but will make you go "I didn't know they can come up with that". The game belongs to the "distance-type" games that the iPhone has made itself home to, and it shares plenty in common with Bird Strike. The major difference is that Jump O'Clock has plenty more character and if I may be so bold to say, atmosphere.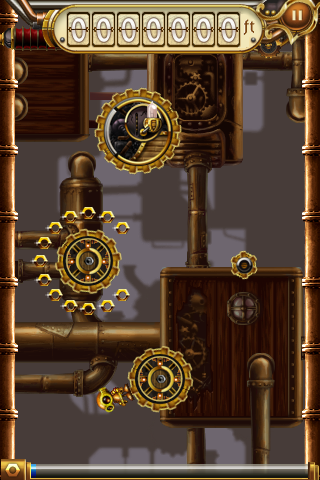 The game takes place in a steampunk setting, with plenty of moving gears, and player will have to guide the little robot LEO upwards by jumping from gear to gear (by tapping on the screen). LEO is somewhat of a nimble robot ninja and jumping (and double jumping) isn't a problem for him. He can do wall jumps as well by using the side walls and this is pretty good trick to get some height. Besides jumping from gear to gear, LEO will need to collect bolts and these will fill up the Super Jump meter. Once this is filled, players can activate a super jump for a huge boost upwards.
The first 800 meters or so are pretty easy, but after that you'll find some gears armed with razor sharp teeth and other obstacles like broken side walls (which are hot to touch) and scalding hot jets of steam. While hitting these obstacles may not cost LEO the immediate loss of life, it will eat away at your Super Jump meter instead (like how Sonic losses his rings) and/or cause loss of footing. If you don't immediately jump on something, LEO will be free falling and it's game over.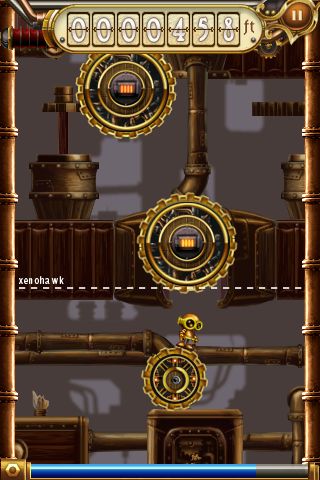 Pretty challenging stuff huh? What I love about the game is not only the steampunk setting and excellent well animated graphics, but also the soundtrack and sound effects are top-notched as well and are great complements to the whole setting. I like to think that the game takes place in a gigantic steampunk styled clock  (which would explain the gears).
The gameplay itself is pretty darn addictive in it's simplicity, you just need to make sure that you land on something. Another cool aspect of Jump O'Clock is that not only does it implement OpenFeint for online leaderboards, you get to see your friend's high score (as in distance) in-game while you are playing. I don't know about you, but this serves up some friendly competition and it's one of the reasons I keep revisiting the game.
It's safe to say that everything just gels together for Glu Games' Jump O'Clock, creating a really great game. Jump O'Clock is still available for free on the Apple App Store. Be sure to check it out over here: https://itunes.apple.com/us/app/jump-oclock/id372410289?mt=8. Highly Recommended.
Powered by

Sidelines
Previous Post Nike City 10K Kuala Lumpur 2010 Run Race Report: We Run KL? Yawn.
Next Post Blacksmith Games Set to Release Floop for iPhone/iPod touch