Appy Entertainment Brings 10 iPhone Zombie Games for the Price of One (USD 0.99)!
The micropublisher that brought us FaceFighter and Zombie Pizza (which I enjoyed immensely, despite how gross the premise was…do you want brains with your pizza?), Appy Entertainment has come up with something really interesting: a package featuring a  whole lot of zombie games for the iPhone, for a total price of…wait for it… USD 0.99. Pretty cool eh? Check out the press release for more information:
Appy's All-In-1 ZombieBox Offers Ten Zombie Apps For One Value Price
Appy Entertainment Launches Publishing Imprint With iPhone Zombie Bundle
CARLSBAD, California — October 1, 2010 — Halloween comes early as Appy Entertainment (creators of FaceFighter, Zombie Pizza, and Tune Runner) unleashes the All-In-1 ZombieBox. Using Appy's own proprietary launcher technology, the All-In-1 ZombieBox bundles ten fun, full-featured zombie apps from ten independent developers into a single, .99 USD value package. "October is Halloween month, and zombies are hotter than ever," said Appy Brand Director Paul O'Connor. "Our All-In-1 ZombieBox offers outstanding value to zombie fans everywhere, unleashing ten unique zombie apps for less than ten cents a piece!"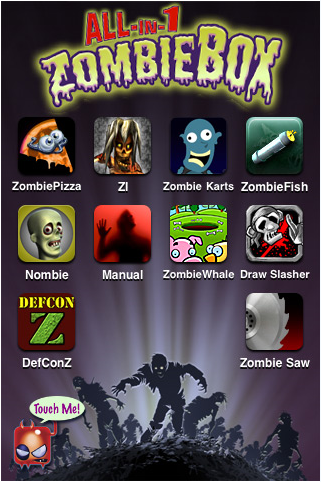 "iPhone gamers want value," said Appy CEO Chris Ulm. "The All-In-1 ZombieBox advances the state-of-the-art for bundled applications by offering a stylish, fun, and unified theme that's perfect for Halloween and beyond. These are the same, full-featured apps available for separate sale on the App Store — this really is an unbeatable deal for gamers."
"The All-In-1 ZombieBox truly has something fun for everyone," said Appy Executive Producer Steven Sargent. "It's got blood and guts, of course, and brains! And guns, plenty of guns, plus tips for surviving a real zombie apocalypse. But it also has fish, and saws, and pizza, and go karts, and even a whale," Sarge added, laughing. "You'll have to check out the app to understand that last bit!"
The All-In-1 ZombieBox marks the debut of "Appy Spotlight," the publishing imprint for California-based micropublisher Appy Entertainment. Known for their best-selling FaceFighter series, Appy Entertainment's expansion into publishing marks the next phase in their evolution as a company. "We tentatively plan to release one more game this year under the Appy Spotlight imprint," O'Connor said, "and our output will ramp up in 2011, with more All-In-1 bundles and original titles."
Coordinating ten independent developers around the world was an enriching experience for Appy Entertainment. "All of our Appy Spotlight developers were great, just terrific," said Ulm. "We're extraordinarily fortunate to work with such a talented and forward-thinking group of developers. We asked a lot of these guys — each of them had to adjust their own apps to be compatible with our unique Xcode framework created by our CFO, Marc-Antoine Argenton — but they hit every deadline and the project came in on time and on budget. The Indie Spirit is alive and well at Appy Spotlight!"
Appy's All-In-1 ZombieBox features the following apps and indie developers:
Zombie Invasion — Conniption Entertainment
Defcon Z — Monkey Armada
Draw Slasher: Dark Ninja vs. Pirate Monkey Zombies — Mass Creation
Zombie Saw — L*U*K*E
Zombie Pizza — Appy Entertainment
Zombie Nombie — Smudgy Games
Apocalypse Zombie Fish — The Binary Mill
Zombie Karts — Cascadia Games
Zombie Apocalypse Manual — PALIANTech
Zombie Whale Hole — Cervo e.U.
Check out the All-In-1 ZombieBox on the App Store over here: https://phobos.apple.com/WebObjects/MZStore.woa/wa/viewSoftware?id=393960044&mt=8&ign-mpt=uo%3D6
Powered by

Sidelines
Previous Post PigShot's Makers Announces Contests: iPods Up For Grabs!
Next Post Virtual City HD Comes to the iPad This October 14th!