Archetype (iPhone) Goes on Sale: 99 cents for a Limited Time!
Remember the super cool MMO-FPS iPhone game, Archetype, featured on Nine Over Ten 9/10 (check out the coverage here) not too long ago? Well, it's now on sale at a super-low price of USD  0.99. Here's your chance to deliver some iPwnage on the cheap. Check out the following Press Release from the publisher, Villain, regarding the sale:
Villain, an independent publisher of fiendishly entertaining portable games, today announced a limited time $0.99 pricing promotion for its intense, critically acclaimed online multiplayer first-person shooter game Archetype. The special "killer" price promotion for the iPhone and iPod touch went into effect today, September 30, and will run through October 8.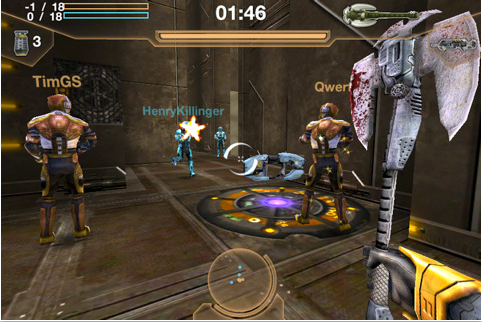 For less than a dollar, new players can join the active community of over 280,000 Archetype players committed to perpetrating team-based online iPwnage on their iPhone or iPod touch (note that the recently released Archetype HD for iPad is not part of the promotion and remains at $4.99).
Archetype was developed by San Francisco-based developer, MunkyFun. More game development news and updates will be shared in the coming weeks.
For more information, please visit the official Archetype site: villainhq.com. Additionally, please follow Archetype on Facebook: facebook.com/archetype and Twitter: twitter.com/archetype.
Powered by

Sidelines
Previous Post iPhone/iPad Indie Game Developers Make Finals in IndieCade 2010
Next Post PigShot's Makers Announces Contests: iPods Up For Grabs!