Pig Shot (iPhone) Now Released on App Store!
I previewed Pig Shot for the iPhone not too long ago, and the developer was quite nice to check out a couple of grouses I had regarding that wacky little game. In any case, the game has now been released to Apple's App Store for the general public and according to the e-mail this morning, it offers an EPIC pig-slinging, farting and rolling experience that you would be hard pressed to find anywhere else (I couldn't agree more).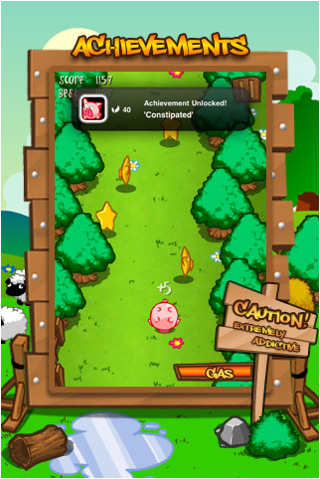 Pig Shot is an incredibly addictive action game where you launch a pig from slingshot to slingshot before rolling it through a challenging trail filled with random obstacles. Catch stars along the way for extra points and grab the cauliflowers to accumulate gas in your pig. Tap anywhere on the screen to make your pig fart for a temporary speed boost (if your pig is slowing down).
Players can unlock over dozens of achievements such as 'Constipated Pig' in the game and even lookup for their highscore on the OpenFeint leaderboard. They can even send a highscore challenge to their friends with a touch of a button. The game was originally developed by another indie developer called Mudloop before being acquired by Nexx Studio. Both studios are now co-developing the game for future updates. Nexx Studio is better known for producing Glow Puzzle that was released back in August.
Check out Nine Over Ten 9/10 preview of Pig Shot over here: https://www.nineoverten.com/2010/09/19/pig-shot-iphone-preview-roll-roll-roll-your-pig/ or get the game from App Store for just USD 0.99: https://itunes.apple.com/us/app/pig-shot/id385904943?mt=8
Powered by

Sidelines
Previous Post The Day I Took an iPhone 4 For A 26 KM Run..