The Day I Took an iPhone 4 For A 26 KM Run..
I think the experience on the 26th of September would be permanently seared on my brain; this was when I ran 21 kilometers through a hilly tarmac race course and then walked 5 kilometers back to the finish line due to cramps. Recalling stuff for this Newton 25KM Challenge Race Report is going to be a painful one.
The bulk of  the race was under a really hot morning sun and I had an iPhone 4 review unit strapped to my arm. I'll be honest here, I don't run half marathons with my own iPhone 3GS, the amount of sweat is enough to make me doubt whether Belkin arm strap can prevent the phone from getting soaked.
But since this is a review unit, what the heck. I've even managed to get some very interesting race data courtesy of using the Adidas miCoach app with the iPhone 4. The miCoach app works with the built-in GPS functionality in the iPhone 4 to record race data such as distance, elevation, pace and route. Once the race information has been uploaded to the miCoach website, I basically have a really cool interface to evaluate my race.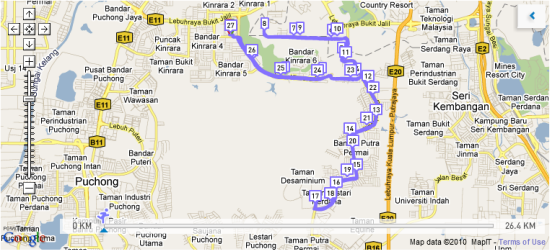 First up, the route. The Newton Challenge took place in Bandar Kinrara 5, Puchong with two categories, 12 KM and 25 KM (it's 26 KM actually, after checking with the miCoach app). I took the 25 KM event considering that I've taken part in half marathons this year, needless to say I gotten more than I can bargain for. The route took us through one of the most hilliest road races I've taken part in, even the UPM-based Mizuno Run can't hold a candle to this.
There are also U-turn points that are very deep in, and the thing about U-turns is that you will be left wondering how far more to the turning point. Maddening…yes….depressing…yes!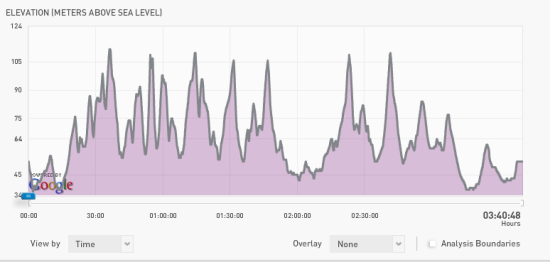 Take a look at the elevation information recorded by miCoach and the iPhone 4. Yup, basically we tackled "valley" kind of terrain, you start from one peak, go down, and then go up to the next peak, like a V. Rinse and repeat. Just check out how many we had to tackle in the graph above. The 12 KM runners had it easy, tackling only one hill before turning back at the 6 KM point.
The miCoach app has this voice notification function that can be set to trigger every kilometer (which I did) to notify the user on some race info and it pretty much helped kept my pace in check which is around  6 to 7 minutes a kilometer. The only problem was the course itself. The second half of the race was a long winded affair going uphill and down again (several times) with one u-turn and water stations that ran out of isotonic drinks.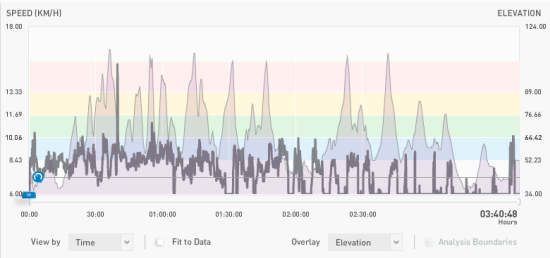 I did 21 KM in 2 hours 42 minutes, not bad considering how tough and hot the course was. I then walked 5 kilometers back to the finish line after cramping both legs, for a final time of 3 hours 40 minutes (yes, it's horrible walking with cramps). There was no consolation at the finish line either except for a finisher's shirt, the Milo van and the 100 plus booth were already closed. Meh…
I found out that the Belkin case proofed to be a snug and thankfully dry fit to the iPhone 4.The phone itself had its battery life reduced to half from a full charge, which is okay considering I had the GPS on for nearly 4 hours.  For those of you Nike fanboys out there, I know you wouldn't be caught dead with an Adidas app, but don't fret, there's a Nike+GPS app for the iPhone. In fact, there are plenty of health care and  fitness related apps on the iPhone to check out: https://itunes.apple.com/us/genre/mobile-software-applications/id6013?mt=8
My next run will be a training run tomorrow or a day after, with a race coming on the 10th October, the Nike KL 10 KM run. If you see a guy wearing an orange Genting Trailblazer shirt and with an iPhone 4 strapped to his arm, that's probably me.
Powered by

Sidelines
Previous Post Be A Pirate in Sims 3: Escape to Barnacle Bay