iPhone 4: Retina Display From A Gaming Perspective
The first time I shown my mum the iPhone 4 review unit (part of the Maxis 10 Reviewer Programme), she took out the kitchen scale (the one which I used to measure weight for baking ingredients) and set about comparing the phone in terms of weight and dimensions against that of her smartphone, the HTC Desire. It was probably the beginning of many a trial between the iOS device and the Froyo-powered upstart, but I'll get to that in a bit. While the iPhone 4 is the latest in Apple's stable of smartphones, it maintains quite little from the previous generation, the 3GS, except for the now familiar facade, even the sides and the back are different.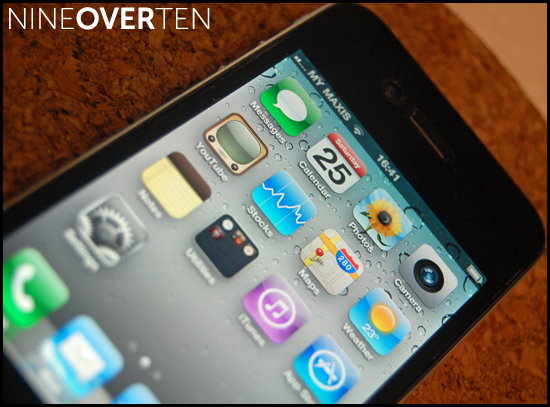 For starters, the phone has some considerable heft in it despite being slightly shorter than the 3GS. As a 3GS user, my gripe was often on the plastic cover on the back of the phone. While I read that the cover was part of an effort to better reception on the phone, it didn't have that touch of class and manly feel from the first generation iPhone (which I also have) which had a metal back. The iPhone 4 brings back both class and macho-ness in a glass enclosure framed with metal on all sides.
Underneath the glassy exterior lay significant upgrades that well, puts my 3GS in the shade. The iPhone 4 shares the same A4 processor first introduced in the iPad and features double the memory of the 3GS, at 512 MB. The display, dubbed Retina Display, packs a 960 * 640 resolution in a 3.5 inch screen, which again, doubles the resolution of the 3GS which shares the same screen size! The rear-camera gets a boost to 5 MP with flash and an accompanying front-facing camera ( 0.3 MP).
What does all these translate to? Coming from an iPhone 3GS user, I can tell you it's a pretty satisfying experience. As a gamer, the Retina Display is a boon, just check out the amount of detail the iPhone 4 is packing when it comes to Retina Display compatible games like Archetype and Epic Citadel. The new A4 processor no doubt has a hand in this as well, pixel pushing is something the iPhone 4 with great aplomb and that's more than what a iPhone game like me can ask for: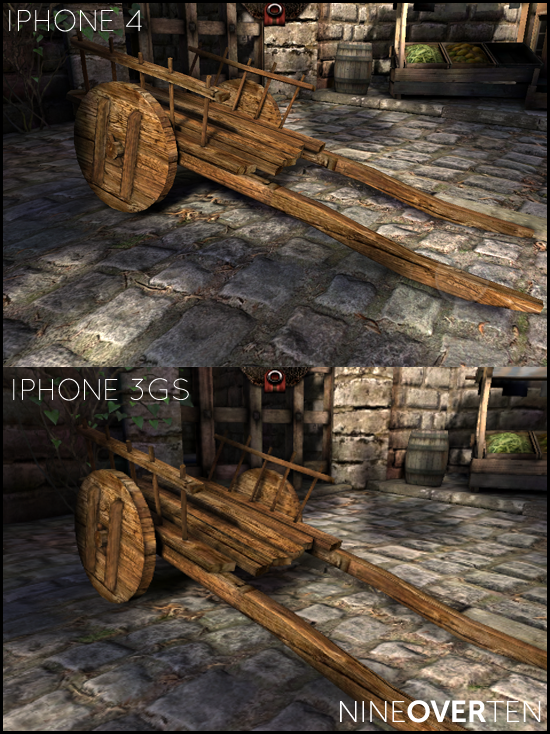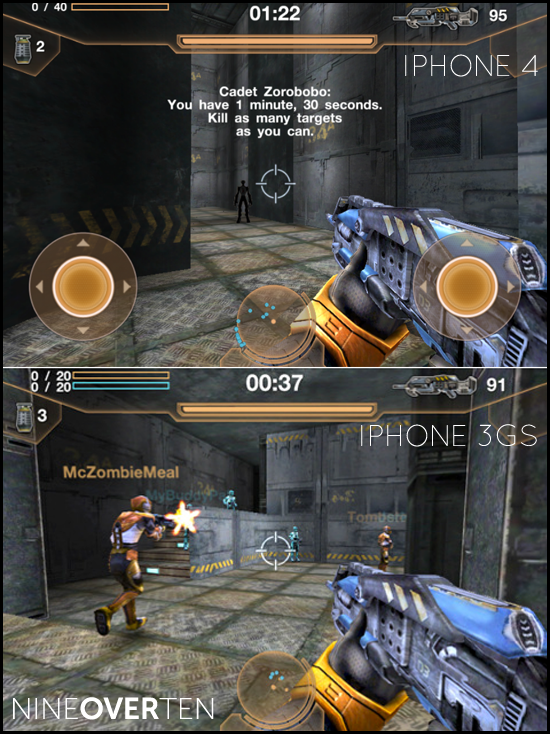 Looks pretty cool right? IMHO, Apple is pretty much holding it's lead in terms on mobile phone gaming, first with the fast  (gaming friendly) SGX535GPU introduced in the iPhone 3GS, and now the A4 and Retina Display on the iPhone 4. I'll be exploring other aspects of the iPhone 4 in the coming days. Stay tuned for upcoming reviews on various aspects of the iPhone 4 on Nineoverten.com.
Powered by

Sidelines
Previous Post iBomber 2 (iPhone) Game Review: Blows Everything Else Out of the Water
Next Post The Berenstain Bears Arrive on the Apple iPhone and iPad