The Oregon Trail (iPhone) Game Review: Hitting the Road, Old-School Style
Gameloft's The Oregon Trail is a remake of an old Apple II game of the same name and it's pretty cool. Basically it's a road trip kind of game as you guide your caravan through the Oregon Trail. Along the way players will bump into NPCs, some of them famous people in history (fancy racing Abraham Lincoln?), engage in mini games for tasks like hunting for food (shooting bison, fishing, collecting berries) or fixing the wagon (hitting nails) or even earning some money shifting gold.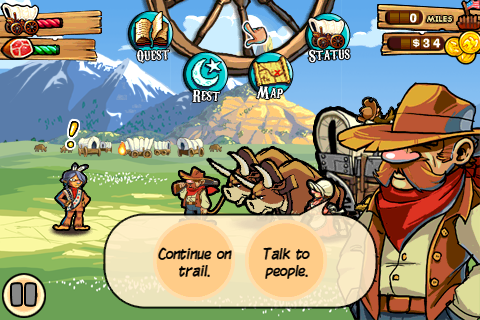 There will be decisions to be made along the way, such as how to cross rivers, whether to pick up hitchhikers for a fee, or which route to take when a fork is encountered. You'll have to keep an eye on how fast your wagon is travelling (as it incurs wear and tear) and also the health of your fellow wagon mates. Resting restores health but also means that you spend more days on the road. It's possible to even have your wagon mates fall sick (and even die…a particular favourite is death from dysentery) and I had a kid taken by a big, bald eagle and never since her since.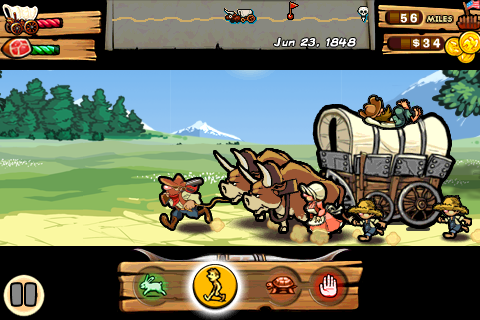 The Oregon Trail is pretty fun, I like the graphics and the decision making involved and over time, I think I show more concern over my wagon mates as compared to when I just started. The game is also chokeful of historical facts on the early American pioneers in which the game is based on, making it really appealing to history buffs like me. Last but not least, the 2D graphics style is rich and a sight to behold.
The Oregon Trail is currently available for just 99 cents, offering a lot of bang for buck. Check it out over here: https://itunes.apple.com/us/app/the-oregon-trail/id307519882?mt=8#. Highly Recommended.
Powered by

Sidelines
Previous Post Pong '72 (iPhone) Game Review: Play Like It's 1972!