Super Mega Worm (iPhone) Game Review: Tremors Homage
As a child of the 80s, one guilty pleasure, which I'm sure many are familiar with, would be the movie Tremors. Starring Kevin Bacon, it was a horror-comedy featuring gigantic worms coming out of the ground and eating people. I think I've watched the movie (and its sequel) a total of more than a dozen times. Now someone has taken the idea of gigantic worms eating up people (and cows) and made it into a game.  That someone would be Deceased Pixel LLC, and the game in question would be Super Mega Worm for the iPhone. Even the game's icon is a take on the movie's poster.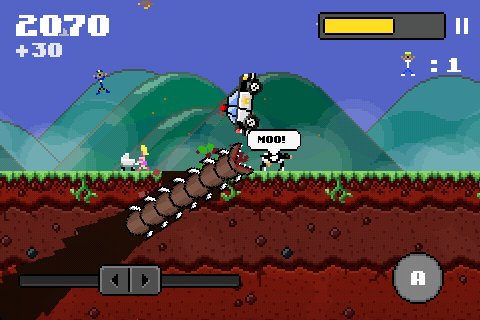 I was grinning from ear-to-ear when I was playing this game earlier today. No prizes for guessing that you the big worm in this game, and by controlling a slider to steer the worm, you are supposed to come up from the ground (like a whale breaching water) and gobble up people or animals. Given the size of the worm, you need to constantly eat up stuff otherwise the health bar on the top-right of the screen will continuously drop. Once it is empty, the worm dies in an explosive fashion.
There's a quota on the number of people to eat that needs to be fulfilled in each level. And with each new level, the worm grows longer. The humans will soon put up sterner opposition and I've played to levels whereby helicopters shoot and also drop landmines. The worm is capable of spectacular feats, such as spitting acidic saliva or even bouncing off a vehicle to get some "air time" (and eat some birds at the same time).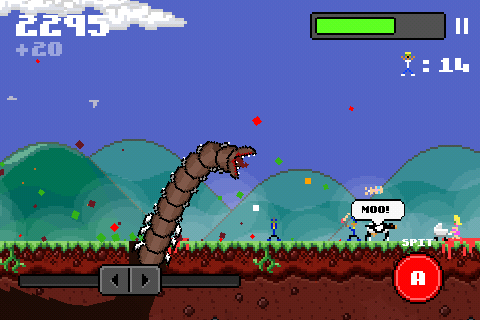 Super Mega Worm is presented in retro 8-bit style, something which I observe to be in renaissance on the iPhone. It adds an old school charm to the game and even the developers put up a cheeky mock-up of the game as if it were for the NES. The latest update for the game brings Game Center compatibility but it seems to break the game when run on iOS 4.0. I know this after installing the game on my girlfriend's iPhone. It runs fine on my updated iPhone running iOS 4.1. Hopefully this will be fixed soon.
Check out Super Mega Worm over at the App Store, it's currently priced at 99 cents, after a 66% price drop in conjunction with Labor Day week (https://itunes.apple.com/us/app/super-mega-worm/id388541990?mt=8). Highly Recommended.
Powered by

Sidelines
Previous Post iPhone 4 vs iPod touch (4th Generation)
Next Post Whack'N Roll (iPhone) Game Review: More Than Meets The Eye