Gala, Gala, Galaga REMIX (iPhone)
For those curious about Namco's Galaga REMIX, it's actually 2 games for the price of one. You get the original arcade version of Galaga and the new REMIX version, which is presented vertically and with updated graphics, power-ups and boss battles. And having played both, I actually like the REMIX-ed edition better than the original version and it boils down to a single reason: controls.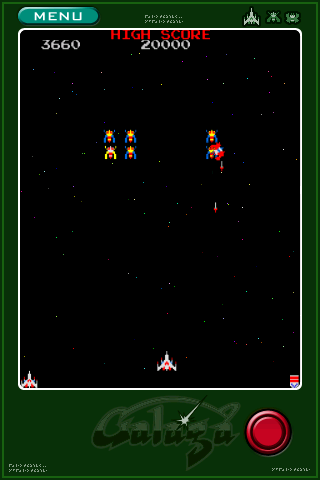 For some reason, the controls on the original Galaga felt nerfed. Ship control is horrendous despite the three different type of control schemes you can choose from and holding the game vertically just makes things worse. Furthermore, there's no continuous shot when you hold down the fire button. All these problems are absent from the REMIX-ed and yeah, I love the REMIX edition.
Besides, the boss battles, power-ups and surprisingly yummy looking graphics go a long way in making the entire Galaga experience more in-line with modern shmups. While there's no vertical plane movement (I don't mind not having this), the REMIX version feels….complete. This just means one thing: get it now!
The game is still available for just 99 cents as Namco's sale only ends on September 7th. Check it out over here: https://itunes.apple.com/us/app/galaga-remix/id310662030?mt=8
Powered by

Sidelines
Previous Post Sunday App Store Shopping: Namco Discounts and Shazam Encore