Toy Story 3: Operation Camouflage (iPhone) Game Review
As a kid, I really liked playing hidden object games, the "technical term" for a game involving looking for a list of items within a picture. There was a particular children magazine that held a contest featuring such a game and silly young me bought multiple copies of the magazine (so that I can have multiple entry forms) to create a bigger chance of winning the top prize, which was a LEGO set.
Anyways, in the age of video games, hidden object games are a dim a dozen these days, and while I'm pretty sure that there are plenty on the iPhone, this is the first time I'm reviewing one, having gotten it as a review request in the mail. Operation Camouflage is the latest offering from Disney, and it's a hidden object game based on the hit movie, Toy Story 3!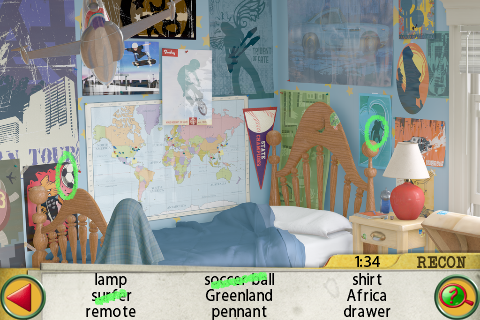 Playing as Sarge and his group of toy soldiers, players have to look for a list of items in places such as Andy's room, Bonnie's room and Sunnyside Daycare. While the game keeps things interesting by making items a little abstract (and thus harder to find) with a hard mode to boot (read: timer), there are some gripes that I can't seem to shake off. For starters, the game is definitely suited more for the iPad rather than the iPhone, thankfully the game is a universal app for both devices.
The beautiful high-res graphics prove to be a double-edged sword. While the game looks pretty, items tend to be really small and the zoom function is slow and it stutters. There's no penalty for just simply tapping around the screen randomly without finding anything. But I guess this was a deliberate decision considering the target audience is after all, children.
On that point, Toy Story 3: Operation Camouflage is one of those games to keep the kids occupied when Mummy or Daddy need some peace and quiet to work over their income tax submission. Check out the game over at the App Store: https://itunes.apple.com/us/app/toy-story-3-operation-camouflage/id386171639?mt=8.
If you are looking to buy those Toy Story toy soldiers, check out the Toy Story Collection Bucket o' Soldiers containing 72 toy soldiers and a certificate of authentication. Check it out over here: https://www.play-asia.com/SOap-23-83-47yl-71-7g-49-en-84-j-70-3y5w.html
Powered by

Sidelines
Previous Post Super Juicy (iPhone) Game Review
Next Post Apple Announces 4th Generation iPod touch: Bye-bye Nintendo DS, PSP