Super Juicy (iPhone) Game Review
While match-3 games are practically a dime a dozen on the iPhone, there's something really satisfying about Berzerker Games' Super Juicy for the iPhone/iPod touch. The game borrows elements from both Tetris and Bejeweled to create a somewhat yummy (it must be the sound effects) take on a genre that's frankly been lacking in innovation lately.
Gameplay is really simple, coloured bubbles descend from the top of the screen, players will have to tap any three or more bubbles of the same colour to pop them and they have to be accurate about it. Tapping on a bubble not in a group of three or more will cause you to lose points and  inflate the bubble bigger and bigger, taking up screen space and if that screen space fills up before the timer runs out, it's game over.
The key here is to score combos (going from one combination of bubbles to another in quick succession) and the highest combo multiplier is the namesake for the game, Super Juicy. Like I mentioned earlier, the sound effects in the game are really nice, the combination of the fruity theme and the sound effects makes as if I just finish a pack of Sugus sweets (really yummy stuff). Graphics wise, the game keeps it simple and while I generally like this kind of approach, I did have trouble differentiating the red and green bubbles.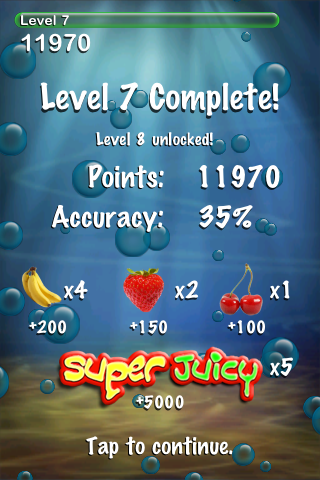 That minor issue aside, Super Juicy delivers fun and frantic match-3 action all in a polished package. The game is available for USD 0.99 on the App Store, check it out over here: https://itunes.apple.com/us/app/super-juicy/id328568119?mt=8
Powered by

Sidelines
Previous Post W.I.P (iPhone) Game Review
Next Post Toy Story 3: Operation Camouflage (iPhone) Game Review