DC Comics Super Hero Collection Magazine – Now in Malaysia
Back when I was a kid, my dad used to get me issues of Quest magazine, a partworks magazine collection about science published by Marshall Cavendish. If you are unfamiliar with the term partworks, it basically means a written publication, released as a series of planned magazine-like issues over time. In the case of Quest, each issue can be separated into separate topics and stored inside binders with colour coded sections. The complete collection, consisting of 3 binders of collected issues, is somewhat like an encyclopedia on science.
I noticed a new partworks collection yesterday at the local Borders, called the DC Comics' Super Hero Collection. It sounds tacky and while it comes with the pre-requisite magazine (and the binder is coming in Issue 2….I think), each issue comes with a hand-painted, lead-cast collector's edition figurine of the featured superhero! In the case of Issue 1, which is on the newsstands now, the featured superhero none other than my favourite, Batman.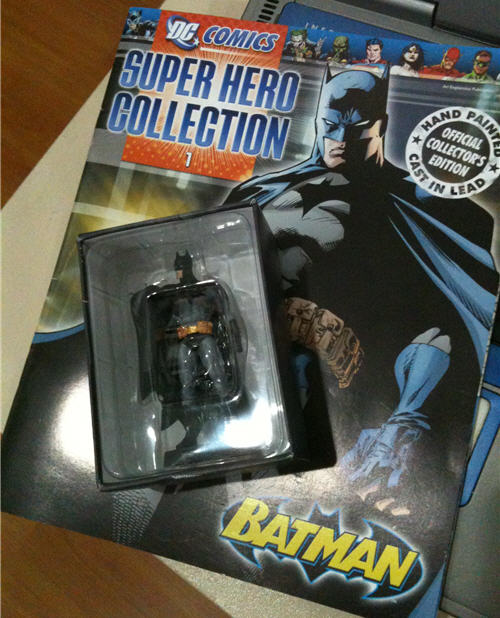 The magazine portions details the character, the greatest Batman stories, the supporting characters and the genesis of the idea in creating Batman, it's nothing much if you have something like The Essential Batman Encyclopedia (which I do, having bought it for a song), but if you don't it's an OK primer to the Dark Knight. The star of the issue is definitely the figurine. I'm keeping in in-box (took off the shrink-wrapped, but never gone to the business of setting the little guy free from his plastic confines), and I think it's pretty well worth the money.
DC Comics' Super Hero Collection is a bi-weekly release. The first issue is now at an introductory price of RM 19.90, subsequent issues will have a price tag of RM 29.90.  If you were to ask me, I would say the magazine is worth buying for the figurine alone. Looks like I've to add this to the budget, in addition to the other two magazines that I buy on a regular basis, EDGE and Retro Gamer.
Powered by

Sidelines
Previous Post Play-Asia's Sale is Back: Video Games, Toys, Music CDs and Movies!