iPhone Bullet Porn FTW!
I downloaded two games from Cave Entertainment last night, the first one being their latest release, Dodonpachi Revolution, and another title that has been on the App Store for a little bit longer, ESPGALUDA II. I'm usually a shmup player along the lines of R-Type and Tyrian but having read about bullet porn (or bullet hell) shmups in Brian Ashcraft's Arcade Mania, I gotten a little curious about this sub-genre. It went to the extent that I visited a local arcade to try out one of the bullet hell shmup cabinets.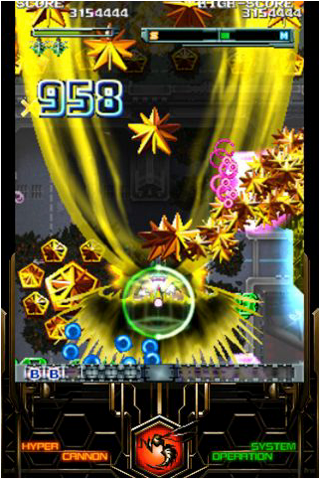 In any case, it's fortunate that Cave decided to release their games on the iPhone, there's no longer a need for me to go to the arcade (and bring along disinfecting alcohol wipes for those icky controls). I love both games. Dodonpachi Revolution has that raw visceral look while ESPGALUDA II looks really slick. Both are capable of churning out a crazy load of bullets, filling up the screen but thanks to the 3GS, there's no slowdown at all.
One should however pay heed to the "requirements" needed to play the two games. Both require a 3GS or better, and the iPhone 3G won't cut it with its slower processor. I made sure to remove background applications in order to give maximum headroom to the games considering both are memory intensive. If you are a shmup fan and still stuck with an iPhone 3G, these two games will convince you to take the plunge and get an iPhone 4 (or minimally a 3GS).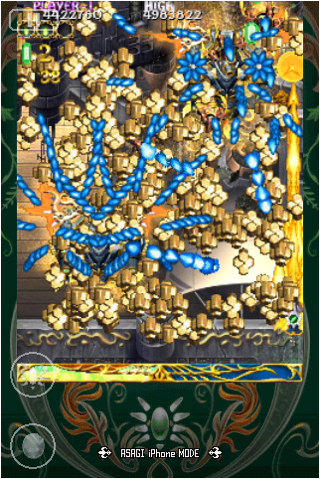 Check out ESPGALUDA II over here: https://itunes.apple.com/us/app/espgaluda-ii/id363969661?mt=8, Dodonpachi Resurrection is currently available at a discounted price of USD 4.99: https://itunes.apple.com/us/app/dodonpachi-resurrection/id387176580?mt=8
Powered by

Sidelines
Previous Post Glow Puzzle (iPhone) Hits 1.6 Million Downloads & New Update!
Next Post Play-Asia's Sale is Back: Video Games, Toys, Music CDs and Movies!