Glow Puzzle (iPhone) Hits 1.6 Million Downloads & New Update!
The guys and girls over at Nexx Studio must be a really happy bunch as they announced that their game, Glow Puzzle for the iPhone, has been downloaded over 1 million times  in just 10 days and the count stands at over 1.6 million downloads as of now. In addition to this, Glow Puzzle's first major patch (v 1.1.0) has been approved and released today. This new patch features over 60 new and more levels in Level Pack 2.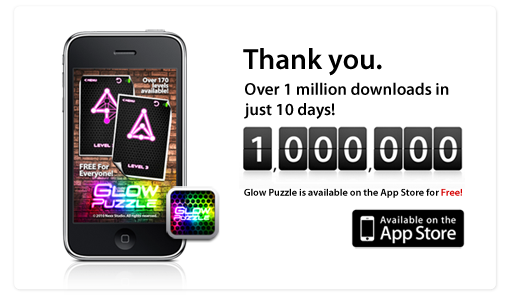 Users who have not purchased the Level Pack 2 (it's an in-app purchase) will still get to enjoy new maps in the form of additional 5 free levels. A double validation process has also been instituted in this update in order to help users on older iOS (3.0) who were having trouble downloading additional Level Packs. Glow Puzzle also now features high-res icons for both the iPhone 4 (taking advantage of Retina Display) and the iPad versions of the game.
Glow Puzzle is available for free on the App Store, check it out over here: https://itunes.apple.com/us/app/glow-puzzle/id370410649?mt=8
Powered by

Sidelines
Previous Post Download Star Wars Battle for Hoth LITE & Win Vintage Star Wars Action Figures
Next Post iPhone Bullet Porn FTW!