City Story (iPhone) Released: Combining Farmville and SimCity!
Remember Farm Story, the app where you get to build and manage a farm (and it also is my girlfriend's favourite game on the iPhone, along with Mega Jump). In what I call natural progression, the team behind Farm Story, Team Lava, has come up with City Story for the iPhone. This is a city-building game that straddles the line between Farmville and SimCity. Like Farm Story, the game looks pretty, with the colourful graphics really pop and the controls are streamlined for the iPhone.
Team Lava has expressed a long term commitment to the game. While there are already 50 buildings in-game, they'll add to this amount via weekly free updates. Check out the following press release for even more details:
SAN FRANCISCO – August 16, 2010
TeamLava today announced the release of their social city-building game City Story for iOS devices. In their second title, an urban sequel to their App Store darling Farm Story, players can dust off their overalls and try out life as a city slicker. The game features crisp, colorful graphics and a touch-friendly interface that's optimized for small screens. With Facebook integration and gifting, City Story gives players a robust city simulator with tons of unexpected challenges. Best of all, it's completely free to play!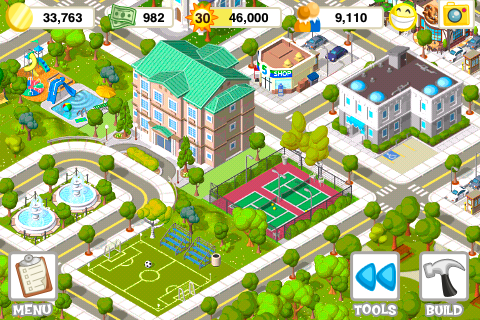 City Story lets players construct their dream city with cafés, boutiques, bakeries, hotels, landmarks and more. Starting with just a plot of concrete, watch the population skyrocket as a bustling city comes to life. Gamers can build this urban paradise from the ground up, but they won't have to do it alone. City Story connects with Facebook to reward good neighbors who send messages and gifts to their friends. City Story lets you take an engaging social experience with you wherever you go.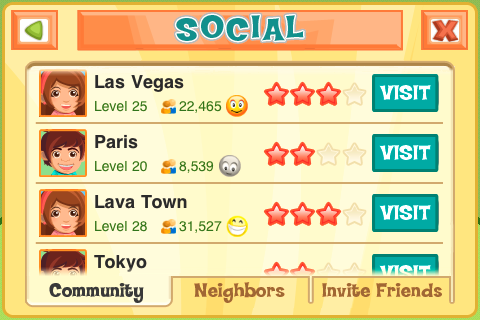 City Story features:
Choose from over 50 varieties of buildings, businesses, and parks.
Design and decorate your city with parks, roads, and rivers.
Get notifications when your contracts are ready.
Invite your Facebook friends to be your neighbors.
Send exclusive buildings as gifts to your friends.
It's FREE!
City Story is designed for iPhone, iPod touch, and iPad – a network connection is required to play. It's a free download, available now on the App Store: https://itunes.apple.com/us/app/city-story/id385667356?mt=8
Powered by

Sidelines
Previous Post Short News: Zattikka CEO Interview
Next Post Age of Empires Online Announced