Star Wars: Battle for Hoth (iPhone) Review: The Force Is Strong In This One
Space, the final frontier. These are the short lived voyages of the Super Star Destroyer Executor, traversing the galaxy, hunting rebel scum. That lame attempt was a result of growing up enamoured to The Next Generation only to be an  adult Star Wars fan boy later in life. There's a certain appeal in Star Wars canon and the fact that it is one that is well maintained despite the expanded universe makes it far fascinating (and easier to keep track) compared to the tired, fractured Star Trek universe (time travel anyone?).
In any case, Episode V turned out to be my favourite in the Original Trilogy and when I first heard that the first major battle in the movie was the subject of a new iPhone Tower Defense game, I thought, maybe I should keep tabs on it. Star Wars: Battle for Hoth has a Fieldrunners feel with it, but thankfully in addition to placing rebel troops, gun emplacements, laser turrets (that need to be tethered to a power station),  you get to dig trenches, just like how those rebel scum were hanging out in the movie.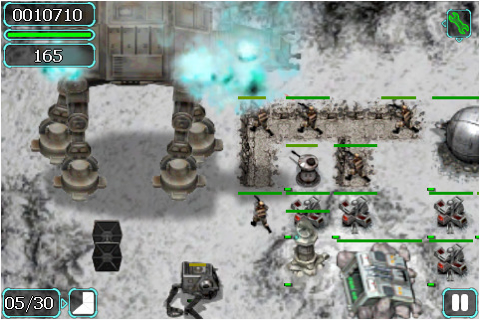 Although it didn't do them much good, placing rebel scum, I mean, troops, in trenches gives you certain bonuses, therefore it's something you might want to do while playing the game. The cheap troops are necessary to deal with the starting rush of storm troopers and recon droids. Don't get fooled into building laser turrets at the start of the game. Those things are really slow, and expensive. So remember, cannon fodder first, then only the expensive hardware.
Like most Tower Defense games, most units in Battle for Hoth are upgradeable, giving them more range and of course firepower. I find the upgrades to be a little unbalance though. It's possible to shoot a whole bunch of troops without them having them get a shot at your defenses. Anyways, one very interesting part about the game is that you can set individual units on what kind of targets that they should be shooting at, be it troops, droids or even defend stuff.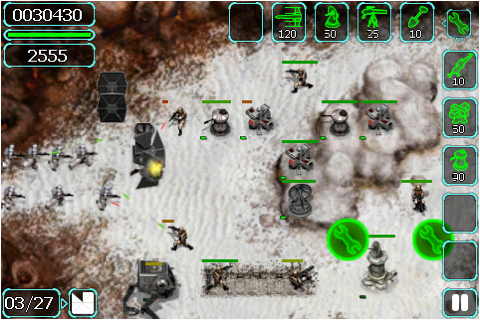 My memory is a bit fuzzy, but you do get to deploy X-Wings in the game, but it doesn't matter anyways as in the end Hoth will always fall, the dark side always win. Hehehe. Good thing some of the levels are inter-spaced with original footage from Episode V doubling as cutscenes, so it's pretty much a study on how to win battles, but ultimately losing the war. Such a premise would have been depressing in say…an RPG, but the chance to deploy rebel scum to meet their deaths, simply priceless.
While the ground units are the typical storm trooper and droids, the rebel scum will also have to defend against AT AT walkers and even TIE Fighters or are those TIE Bombers. There's just so much stuff to blow up. Here's a tip to enjoy the game even further, do not play it on the Easy difficulty mode, the game tends to be a pushover. Graphics wise the game looks great and the sound effects stay true to that of the movie. As an added bonus, there's OpenFeint support as well!
At USD 2.99, Star Wars: Battle for Hoth is pretty good value. Check it out on the App Store: https://itunes.apple.com/us/app/star-wars-battle-for-hoth/id380048097?mt=8 Highly Recommended!
Powered by

Sidelines
Previous Post MagniFusion (iPhone) Review
Next Post Short News: Zattikka CEO Interview