MagniFusion (iPhone) Review
MagniFusion didn't really impress me the first time around, I thought the controls were shot but it turned out to be my fault for not paying attention in the tutorial. Thank goodness I decided to give the game another try, otherwise the impression that the game sucked would have been permanently burrowed into my brain. In any case, MagniFusion is one beautiful example (graphically and gameplay wise) of a puzzle game.
Your task is simple enough, it's bubble management. LOL You'll keep the number of bubbles in each level from reaching critical (the bubbles appear on a regular basis) and to do so, it's a two step process. First you'll need to combine bubbles of the same size and colour together (by nudging one closer to another), to create even bigger bubbles.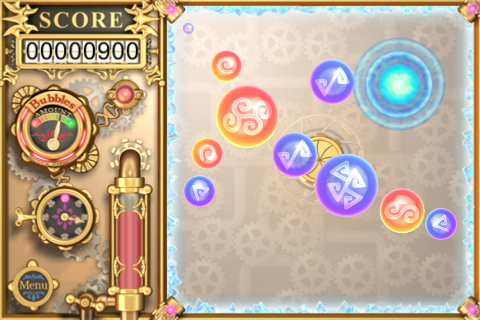 Occasionally some weird circular thing will pop up in the middle of the level and emit a ray, highlighting certain bubbles that you will then need to pop (by tapping on them) in a really short period of time. Hopefully this will reduce the number of bubbles more than they can appear. Merging bubbles before the ray appears means that you'll have less highlighted bubbles to pop, so merge them while you can!
Pretty soon you'll get into the groove  of merging bubbles, praying that the ray comes soon enough, and pop as many highlighted bubbles as you can, just like me. 🙂 To add to the complexity, levels have obstacles (read: mazes), making it difficult for you to nudge bubbles closer to each other, and some bigger bubbles will have trouble moving through the maze. This heightens the drama so to speak, and when you realize that you have a log jam of bubbles of different sizes and colours, you can probably tell that the level has reached critical mass and it's game over.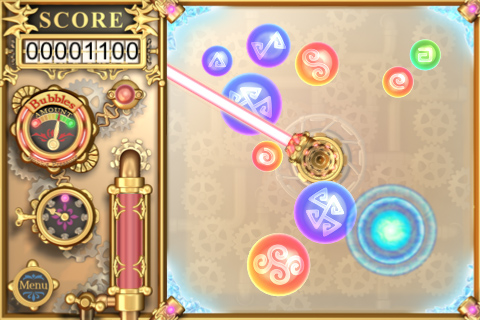 Even when it's game over, you'll get the opportunity to pop the bubbles that have not been popped, adding to your score. This is just one of the many generous gestures built into the game. Aside from the mainstay Puzzle Mode, the game throws in 3 different arcade modes. In addition to that, there's a special maze arcade mode that can be unlocked by keying in  477201 in the "Codes & Extras" section.
Graphically, the game is beautiful and the soundtrack serves to complement it. I must be lucky considering the other games that I've been playing/reviewing for the past couple of weeks have really nice graphics. Last but not least, while I know Apple's GameCenter is gaining traction, MagniFusion features trophies and online leaderboards courtesy of OpenFeint.
This is one more game to add to your library if you are a fan of puzzle games, especially those games that can get really frantic in the end-game (kinda reminds me of Tetris). If the game doesn't make an impression the first time around, take it from me: jump straight into the Arcade mode (it'll just make sense…trust me).  The game is available for USD 1.99 on Apple's App Store. Check it out over here: https://itunes.apple.com/us/app/magnifusion-push-combine-squash/id381567077?mt=8
Powered by

Sidelines
Previous Post The Incident (iPhone/iPad) Game Review: 8-Bit Rocks!
Next Post Star Wars: Battle for Hoth (iPhone) Review: The Force Is Strong In This One