Archetype (iPhone) 1.3.1 Update Released
Villain has released an update for its popular and highly acclaimed MMO-FPS, Archetype for the iPhone and iPhone touch. The Archetype 1.3.1 update in the App Store features gameplay improvements, new level, and new Rocket Arena game mode. Archetype is an intense new online multiplayer first-person shooter game recently released for iPhone and iPod touch, and continues to garner critical accolades along with boasting an active legion of fans and community.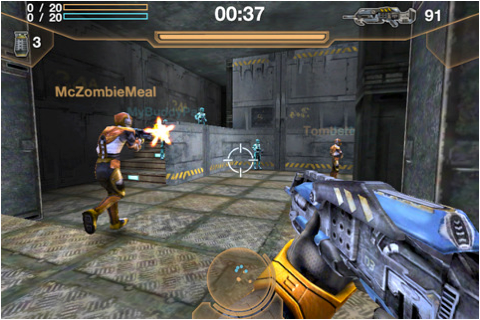 The new update delivers a host of improvements and new features including the following:
New level: Avarice features extreme vertical combat around a central power core. The jump pads in this level launch players higher and let them fly over enemies to snipe them from above
New game mode: In Rocket Arena, play the popular level Pride with a new twist: rocket launchers only. One rocket shot will take out any enemy (or friend) and without auto-fire.
Gyroscopic aim assist: This first implementation allows iPhone 4 owners an early glimpse at Gyroscope controls. "Look-around" and more aiming options are slated for the next update
Facebook Connect: Post medals and ranks earned onto the Facebook wall
Other gameplay improvements include a fix for spawning too close to enemies, a change in the default equipment that starts players with two grenades rather than three to make grenade usage more strategic, and info button that provides information and updates, user controls for inverting yaw and disabling blood effects, automatic screen rotation (iOS4 only), a memory fix for second gen iPod touch owners, and a graphical fix for player who appeared to be holding a melee axe when they had the default rifle.
For more information, visit madebyvillain.com/archetype. To visit the Archetype page in the App Store, go to https://www.itunes.com/app/archetype.
Powered by

Sidelines
Previous Post What Else Do I Use My iPhone For?
Next Post Scarabeus: Pearls of the Nile (iPhone) New Trailer Released