Wedding Dash (iPhone) Gets iOS4 Updates
If you own an iPhone 4 and is a fan of the game Wedding Dash, here's some good news as the game is getting its very first iOS4/iPhone 4 oriented update. This major update is mainly to take advantage of the iPhone 4's Retina Display (meaning higher resolution graphics), but also boast enhanced gameplay, improved multi-touch abilities and fun new characters and activities. Check out the following press release for details: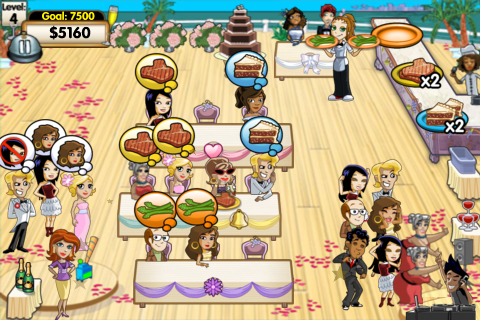 SAN FRANCISCO – July 26, 2010 –PlayFirst® Inc., a leading publisher of emotionally engaging interactive entertainment, today announced an update to its highly successful iPhone game, Wedding Dash®.  The fresh update includes enhanced gameplay, high-resolution graphics, improved multi-touch capabilities and fun new characters and activities. Optimized for iOS 4 and the new iPhone 4™, Wedding Dash invites players to the nuptials of the season in this re-imagining of one of the most popular casual time management games of all time!
In Wedding Dash, players slip into the pumps of Quinn, wedding planner extraordinaire, as she uses her quick wits and task juggling skills to keep her clients' weddings on track. Delivering a bouquet of exclusive enhancements, including new characters and enhanced game responsiveness, the update to Wedding Dash lets aspiring wedding planners juggle tasks ranging from seating and serving a range of guests, each with their unique likes and dislikes, to ensuring the happy couple stays happy!
The new update takes advantage of the iPhone's Multi-Touch screen, allowing players to use their fingers to slide guests to their seats, collect gifts and stop disasters before they ruin that special day. Players with the new iOS 4 will be able to multitask and switch between active play sessions and other Apps without skipping a beat.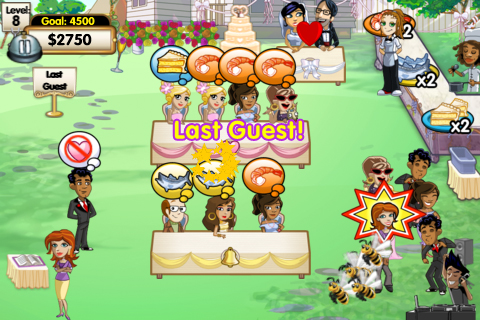 The latest update also marks the first time a PlayFirst title will be tailored for the iPhone 4's Retina Display screen, offering sharp, vibrant HD visuals. Dream wedding locations will be radiantly beautiful and character animations will be crisp and clear, allowing players to see guests' expressions, whether they make them happy or mad!
With Wedding Dash now fully optimized for iOS4 and the iPhone 4, PlayFirst continues to expand its leadership on the iPhone and iPod Touch.
"PlayFirst's has one of the most successful franchises in the App Store today with our Dash games achieving over 6 million downloads and all three games frequenting the Top 100 grossing games chart," stated Chris Williams, Director of Mobile and Console at PlayFirst. "While we already see outstanding retention and lengthy play sessions we're sure that this update to Wedding Dash will, pardon the pun, engage players even more."
The fresh update to Wedding Dash is available now in the App Store. Consumers who have already purchased Wedding Dash will be able to download the new update for free.
Powered by

Sidelines
Previous Post Put a Star Trek Communicator in Your iPhone
Next Post Zombies Arrive on the iPad with Zombie Invasion 2 HD!