Portal Rush (iPhone) Review
I don't know whether it is intentional or otherwise, but I can't help but feel that Portal Rush for the iPhone is channeling Digidrive for the Game Boy Advance. Everything from the player-controlled laser ship to the retro-like look and feel and even the in-level soundtrack screams Digidrive, but it's not a bad thing considering that I am an avid Digidrive player and these comparisons are simply… unavoidable.
In any case, Portal Rush's gameplay is one that it can call its own. As mentioned earlier, players control a laser ship with the said laser located at the front of the ship. The ship is rather slow moving and is limited to horizontal and vertical movements (done by swiping the finger up, down, left or right). However in the presence of portals, the ship can actually cover quite a bit of ground (in a straight line) to travel to and consume that particular portal.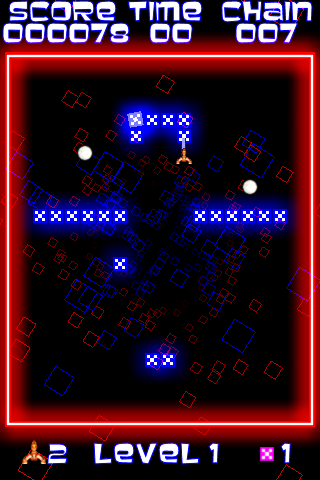 With the mechanics in mind, players will have to figure out on how to maximise the ship's movement and where to move next in order to get to the portals quickly. The objective in each level would be to consume every single portal within a set time while avoiding what can be best described as bouncing balls. I found it pretty frustrating at first as not only there's the clock to beat, you'll have watch out for the random nature of these balls, but like most games, you'll get the hang of it.
If you are looking for a challenge (albeit a random one) in a game that looks like a cross between a top down shooter and a 2d puzzler, Postal Rush should be right up your alley. Check it out over here: https://itunes.apple.com/us/app/portal-rush/id375738388?mt=8
Powered by

Sidelines
Previous Post Train Conductor 2: USA (iPhone) Review
Next Post Daft Punk's Interstella 5555: The 5tory of the 5ecret 5tar 5ystem