Train Conductor 2: USA (iPhone) Review
There's one reason Train Conductor 2: USA (for the iPhone) doesn't claim to be a simulator, there's no way any real-world train system could be that crazy or frantic. In Train Conductor 2, you basically have a set of rail tracks in a level, and you have to guide the trains to their respective tracks. Excluding the first level, which takes place in Miami, there are 4 other levels featuring locations such as the Grand Canyon, New York City, Nashville and Las Vegas, to unlock.
While crashing is not an option in some of the levels that feature trains (monorails, subway trains) inspired from their real life counterparts, Train Conductor 2 surprises with the inclusion of ghost and skull trains in the Ghost World Levels. While you wouldn't need to bother about crashing (they are…ghostly trains after all), you have to concentrate on them getting on the right track and these guys can be pretty fast.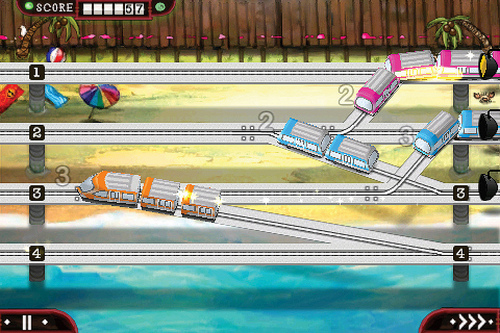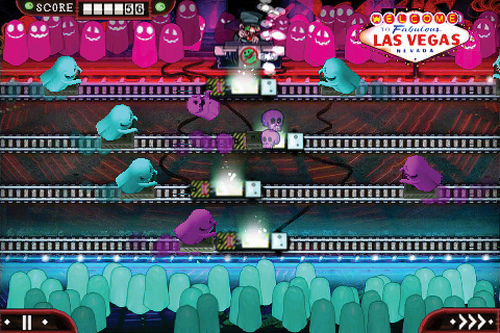 The game's graphics is a labour of love, on par with that of the other railroad game that I've reviewed featuring really nice graphics, The Iron Horse. The trains themselves, along with the backgrounds in the various levels are well drawn and animated. Such attention to detail is sadly missing in other games within the same 99 cent bracket.The game engine holds up well even when the action becomes frantic without slowing down.
I wholly recommend Train Conductor 2 to anyone looking for frantic, casual fun gameplay on the iPhone. Check it out over here: https://itunes.apple.com/us/app/train-conductor-2-usa/id378772227?mt=8
Powered by

Sidelines
Previous Post Ludicrous Gibs: Angry Viking (iPhone) Review
Next Post Portal Rush (iPhone) Review