Ludicrous Gibs: Angry Viking (iPhone) Review
This is pretty mindless bloodletting we have here in Angry Viking for the iPhone. If 3D hack n' slash games were popular back in the day, I'm pretty sure that those nut jobs from Columbine would have come up with something like Angry Viking instead of cheap-ass Doom levels.
While the violence in Angry Viking is practically under the category of "ludicrous gibs", it's the Madworld-like graphics (and well-animated one at that) that catches the eye. I really like the art direction in this game and makes playing an "angry viking" chopping his way through hordes of villagers and guards (and cows) a rather…mindless yet satisfying experience.
My only gripe with the game is that you are bound to get hit first whenever you encounter an enemy head on. Come on, flanking is for sissies and if I keep getting hit head on, I've to keep looking to chop up cows to get my character's health back. On the plus side, the more enemies you mow down, you get to access special moves such as the crazy tornado move that works best in a crowd.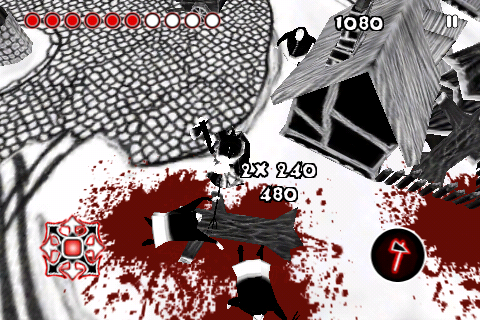 Angry Viking may be a little derivative (God of War comes to mind, and so does going on a rampage in GTA), but the graphics and sheer bloodletting on the iPhone makes the game a rather interesting addition to anyone's gaming library on Apple's mobile device. Check it out over here: https://itunes.apple.com/us/app/angry-viking/id376982560?mt=8
Powered by

Sidelines
Previous Post The Thing About Games and Work
Next Post Train Conductor 2: USA (iPhone) Review