Build 'n Bash (iPhone) Review
So this is what happens when you take SimTower and merge it with Tetris, you get Build 'n Bash for the iPhone. In Build n' Bash, you arrange steel girders (think of it like a 3D version of Tetris) to construct your building floor by floor, hence the "Build" part of the game. Players get to pit their skills against the clock or against one or more opponents.
The part where players square off with the AI is where the "Bash" part comes into play. Not only do you have to construct your building, you'll have to defend against attacks from the AI, which can take shape in the form of a wrecking ball. You can do the same as well, making it all fair in the (virtual) construction business.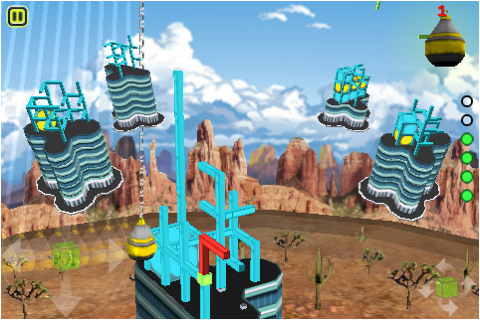 While the 3D graphics are certainly excellent, the controls feel like the game is better off with a physical gamepad, with two real analog buttons to play with. The controls are something of a stumbling block; the controls on the left of the screen controls the orientation of the steel girder and the control on the right controls the placement.
Tapping on the screen causes the girder to be placed at the current location (like a Tetris drop) and this actually clashes horribly with the camera controls which involves swiping your finger across the screen. Guess what happens when your finger leaves the screen? It will cause a drop!!
Infuriating controls (which IMHO could have been handled differently) would have made Build 'n Bash a lesser game if not for the innovative take on Tetris style gameplay. That and the fact that the game makes for a challenging experience, whether it is playing against time or AI-controlled competition. Check it out over here: https://itunes.apple.com/us/app/build-n-bash/id355734579?mt=8
Powered by

Sidelines
Previous Post My Experience Playing God of War III, Then I and Now II
Next Post Interstellar Marines: FPS Shooter Arrives in a Browser Near You