Official Toy Story 3 App (iPhone) Launched
Disney has just launched the official Toy Story 3 app for the iPhone and iPod touch. Inspired by the upcoming Disney-Pixar animated film, the free-to-download app lets fans play, personalise and stay connected to their favourite Toy Story characters. The app features both free and premium content that can be purchased within the app, ranging in price from USD 0.99 to USD 3.99.
"Toy Story 3" is the first Disney app to feature a collectability component where users are rewarded for exploring, playing and purchasing new apps with collectable, Toy Story-themed, virtual Pins.  The app also features cross over with the Mac version of Toy Story 3: The Video Game in which players can use the "Toy Story 3" app on their iPhone or iPod touch to control their gaming experience.  Disney also plans to update the app with new features throughout 2010 and beyond.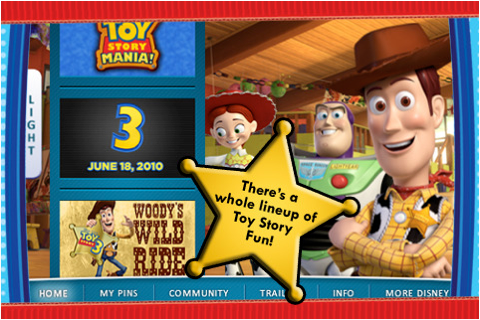 Available at launch is a wide range of content including:
Woody's Wild Ride! ($3.99) – Play as Woody as he and his trusty horse Bullseye ride through the Wild West! Collect items with your lasso, dodge obstacles, and unlock achievements.
Woody's Greeting (Free) – Send a message to your favorite cowboy or cowgirl from your pal Woody! Choose from a list of names, occasions, hobbies and more to create your own custom greeting.
Operation Camouflage ($2.99) – Find items camouflaged throughout Andy's Room, Bonnie's Room and Sunnyside Daycare in this hidden object style game.
Sound Around ($0.99) – Listen to Buzz and Woody's classic phrases, as well as toy sound effects from Andy's room in the Toy Story movies.
"The success of the "Toy Story" franchise and its massive following really lent itself to creating an experience on the iPhone that extends well beyond just a single game tied to the movie release," stated Stephen Saiz, director of marketing, Disney Interactive Studios. "We want fans to have the opportunity to experience the beloved Toy Story characters through games, sounds and personalization timed with the movie launch and beyond."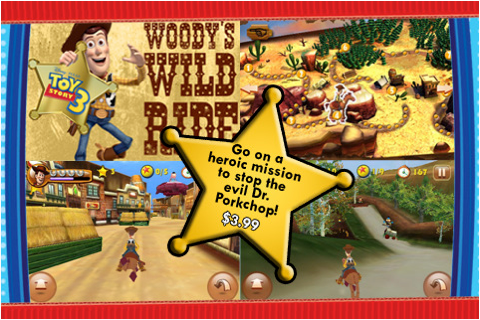 For fans looking for more Toy Story-themed content, Disney has also updated the Toy Story Mania! app to include a new pin collecting feature.  Available in iTunes for $4.99, the app is inspired by the Toy Story Mania! Attraction at Disneyland and Walt Disney World Resorts, and allows players to test their skills in some zany and fun carnival games. Disney-Pixar's animated film "Toy Story 3" opens in theatres on June 18, 2010.
For more information and to download the "Toy Story 3" app, please visit: https://www.itunes.com/waltdisney.
Powered by

Sidelines
Previous Post New Bioshock 2 Action Figures Released
Next Post E3 2010 Day 3 Highlights: inFAMOUS 2 Trailer, Civilization 5 Caps