Bring It to the iPhone: Duke Nukem II
Most people are familiar with Duke Nukem 3D (and its vapourware follow-up, Duke Nukem Forever) but not many from this current generation of gamers realise that Duke Nukem started off as 2D action-platforming games for the PC. The two games were Duke Nukem and Duke Nukem II and I think I'm not alone when I say that it would be great to have at least one of the games (for me, it must be Duke Nukem II) on the iPhone.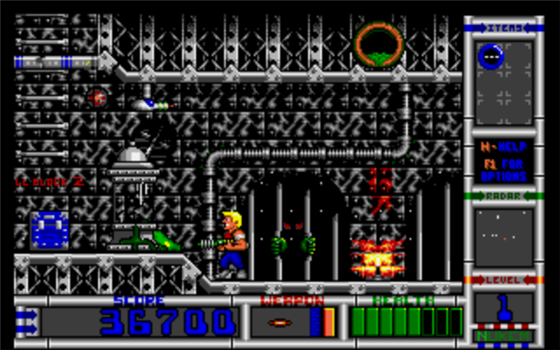 If you were to check out the official Duke Nukem II site, even the game description reads out not unlike one of those game descriptions that can be found on the App Store. The only difference is that Duke Nukem II actually lives up to the promise (I can't say that for most games on the App Store; there are good games, but for everything else, there are copywriters) in between the lines of it's bullet point features.
Just take a look at them, the game is practically begging for a remake on the iPhone:
Vivid, parallaxing graphics, with new graphics on every level!
Ad Lib music and digitized (Sound Blaster/compatible) sound effects.
Super boss enemies to defeat.
Special abilities, like invincibility for a short time.
Duke rides in space shuttle fighter on many levels, for varied action.
32 action oriented levels in four tremendous episodes.
Nearly every level presents a wildly unique scenario for Duke to escape.
Enemies, mutations, robo-droids, guards, traps–all after the escaped Duke!
Built-in radar to help Duke on each level.
Save/restore, skill levels, cheat modes, secrets, joystick/gamepad support.
Game story by Tom Hall–the writer of all of Id Software's game stories.
Special graphics effects never before seen in an IBM PC game.
What other retro game do you think deserves a remake on the iPhone?
Powered by

Sidelines
Previous Post Okinawa Game (iPhone/iPod touch) Aims to Make You Live Longer
Next Post New Transformers: War for Cybetron E3 2010 Trailer Released