New Dr Seuss iPhone Ebooks and Game Launched With World Oceans Day 2010
I can safely say that thanks to my iPhone, I've gotten acquainted to the works of Dr. Seuss. Even more impressively is how Oceanhouse Media times the launches of these Dr. Seuss apps, it's always a tie-in with environmental concerns. The latest launch of Dr Seuss' "One Fish, Two Fish, Red Fish, Blue Fish eBook" app is no different, the app is launched to commemorate the 50th anniversary of the Seuss classic as well as World Oceans Day that takes place on the 8th of June.
Accompanying the launch are two other apps, Dr Seuss' "Oh, the Places You'll Go! eBook", and "Up With A Fish!", a fun, addictive stacking game available at a low price of USD 0.99. One Fish, Two Fish, Red Fish, Blue Fish, a rhyming book for young readers first published in 1960, is now available in interactive format. Dr. Seuss has joined The Ocean Project (www.theoceanproject.org) to make a big splash for 2010's World Ocean Day on June 8th.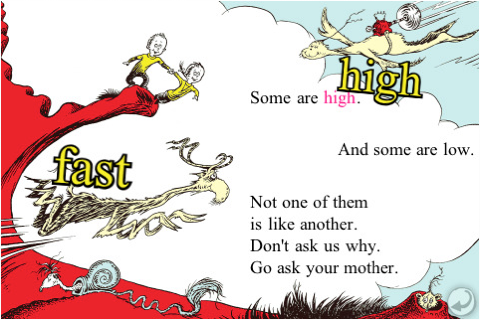 To celebrate the book's 50th anniversary these funny fish will help children "from there to here, from here to there" learn how everyday actions impact our ocean home. Through his rhymes and riddles, Dr. Seuss's intention is clear: teach children to read in a way that is both entertaining and educational. Children will be so entranced and amused by this app that they may not even notice they are learning to read!
Oh, the Places You'll Go! has been adapted for the first time to an interactive book format for the iPhone, iPod Touch and iPad. First published in 1990 (and Theodor Geisel's last published book before his death), it speaks of life's trials and triumphs. Full of good wishes and sage advice, this tale chronicles a cheerful little guy in a yellow jumpsuit as he makes his way in the world. He travels through a wide variety of colorful Seussian landscapes, cities, and sticky situations – some exhilarating, some depressing, some a little frightening. But in the end our hero faces up to each challenge, be it a Hang-up, Lurch or Slump. His success in life is "98 and ¾ percent guaranteed!"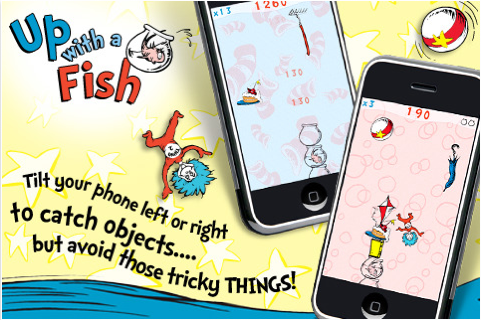 Up With A Fish! is a fun stacking game in which players help the Cat in the Hat stack falling objects atop his tower of fish bowls. Tilt the device to catch falling objects, move the Fish up the stack by catching more fish bowls, and see how high you can score. Up With a Fish! is found in the Kids and Family Games categories and is suitable for ages five and up.
For more information on Dr Seuss apps, click here for details.
Powered by

Sidelines
Previous Post Video Games Think Tank Conference Announced
Next Post Club Nintendo Game & Watch Out Now!