What Games Are You Playing This Long Weekend?
I finally finished Batman: Arkham Asylum on the PS3. Total game time wasn't that long but due to work commitments and other stuff, I ended up playing bits of the game from the 17th of May right up to completion on the 27th of May. One thing I found to be pretty fun while playing the game are The Riddler's Challenges. So far I've solved 75% of them without even looking at a guide. Not bad eh?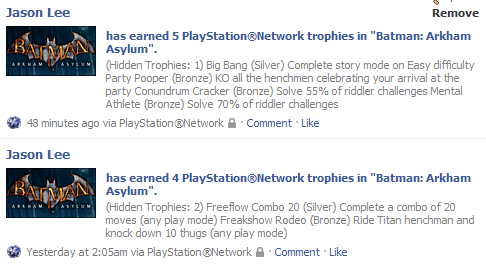 In any case, what's next for me? While I didn't buy Red Dead Redemption, I got myself a copy of 3D Dot Game Heroes, Region 1 and brand new for a discounted price of just RM125! I suppose the game is not selling as hot cakes over here but I'm looking forward to playing the game over the weekend. I've got also Dragon Age Origins and BioShock for company as well. Heh! What about dear reader? Watcha playing this long weekend?
Powered by

Sidelines
Previous Post Diner Dash: Grilling Greens' International Launch for iPad
Next Post Probably The Cheapest Racing Wheel (with a Stick) You Ever Find