Win iTunes Gift Cards with OpenFeint and Bird Strike!
Did you know that you can win iTunes Gift Cards courtesy of OpenFeint when you play the social-gaming enabled Bird Strike on the iPhone/iPod touch? Yup, it's as simple as:
Step 1: Download Bird Strike
Step 2: Enable OpenFeint
Step 3: Add Friends
Select the ADD FRIEND icon at the bottom of the screen when you load the game.  Choose your preferred method to add more friends (Twitter, Facebook, "By OpenFeint name").
Step 4: Challenge friends to play Bird Strike
After playing one round of Bird Strike (Endless Mode or World Tour), click on the CHALLENGE arrow and select friends for the challenge.  Make sure to click on SEND CHALLENGE. 🙂  Also, it would be cool to include a Bird Strike Contest mention. A good example would be  "Try and beat my score for the Bird Strike Challenge a Friend Contest."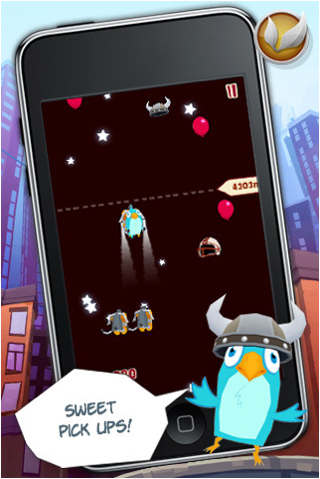 No contest is complete without rules, so you'll need to pay attention to the following, taken from OpenFeint's site:
For every new challenge sent to a player (a limit of 2 to the same friend for the entirety of the contest), you get an entry into the daily contest.
If you win the challenge (whether it be Endless or World Tour Mode), you'll get an extra entry into the daily prize drawing.
Each day we will conduct a random drawing giving a $50 iTunes gift card. So the more challenges you issue your friends, the better your chances are at winning.
And on the 7th day, we'll take all of the entries and have another drawing for the GRAND PRIZE, a $200 iTunes gift card.
While you are add it, feel free to add me on OpenFeint (jasonlwz). Check out this post at OpenFeint's site for further details. Hmm… wouldn't it be nice if they gave out Gerald plushies as well.
Powered by

Sidelines
Previous Post Reasons on Why You Should Visit i-City at Shah Alam
Next Post Gyrotate (iPhone) Review