Gyrotate (iPhone) Review
This..is harder than I thought. Gyrotate for the iPhone looks like Bejeweled, and even features the same "match x number of pieces of the same type" kind of gameplay but there's where the similarities end. Instead of playing on a standard board, the game utilizes layers that you need to rotate to match the pieces in groups of 4 or more, which kinda reminded me of the inner workings of a lock.
Each level has a quota on the number of pieces to be matched based on type, and boy there are many types of pieces. The typical geometric shapes are the usual suspects in this game, you have everything from the sphere to the hexagon are represented here, each with a different colour. Each matched piece reduces your quota and you proceed to the next level once the quota is reduced to 0.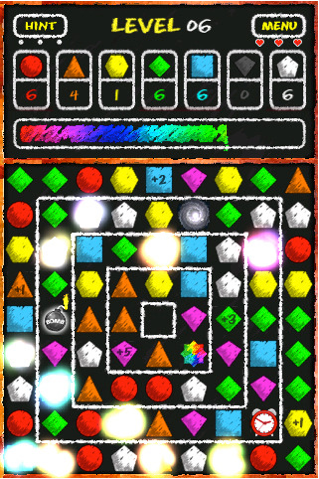 You might not notice this at first but there's a time bar on each level and you have to reduce your quota to 0 before the time bar is reduced to nothing, otherwise it's game over. It can get pretty stressful on later levels when the quota for pieces increase to odd numbers like 5 but fortunately there's a special clock piece that refills the time bar by a fifth when matched.
There are other power-up pieces as well, some work to further decrease your quota (which is a good thing), some would increase it (which is bad) but fortunately as well, there's the bomb power-up to blow up pieces. Gyrotate's graphics and sound are nothing much to shout about, but the key to this game's appeal would be its game play. There's no way you can get a game over unless you run out of time (if you run out of ways to move the pieces, the layers are reset), which is unlike Bejeweled.
The game also features online leaderboards courtesy of OpenFeint (who doesn't nowadays, I sound like a broken record). Gyrotate is still available for free on the App Store, so hurry and check it out over here to take advantage of the free offer.
Powered by

Sidelines
Previous Post Win iTunes Gift Cards with OpenFeint and Bird Strike!
Next Post Fun Times with Lord of Ultima's TnC