iPhone: Home of the Running, Jumping, Distance Platformer Games
One thing I noticed about the iPhone is that it's becoming the new home for several new and existing game genres. One such genre would be the Tower Defense type of games and one of the early shinning stars to come up for the iPhone was Fieldrunners, and it still remains one of the recommend games any new owner should get.
The next genre is a little hard to define, but the characteristics between the games grouped together in this genre are pretty noticeable and one just simply needs to ask "What do Little Runner, Chop Chop Runner, Doodle Jump and Bird Strike have in common?"
Two things, all of these platformers measure distance, and require fast reflexes. In Little Runner, your character is walking pretty fast along a path and it's your job to take out obstacles in order for him to continue walking. One bump is all it takes for the game over screen to appear.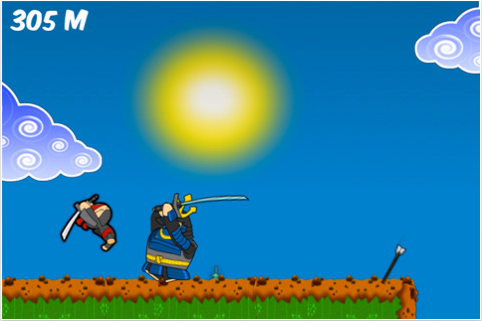 In Chop Chop Runner, you tap the screen for your ninja to jump over gaps and tap again to take out enemies as he runs through a level. Like Little Runner, the more distance your character covers, the higher your score.
As for both Doodle Jump and Bird Strike, the action takes place vertically and not horizontally as you attempt to go higher and higher. In the case of Doodle Jump, you are jumping up platforms, whereas in Bird Strike, Gerald the Bird will have to go from rocket to rocket to gain greater heights.
Unlike Tower Defense games, this genre wasn't mainstream previously but these "Distance Platformers" (for lack of a better genre term), turned out to be very popular with the iPhone/iPod crowd. Bird Strike itself had 1 million downloads in 3 days and Little Runner, a pioneer in this field has garnered praise from both critics and gamers alike.
I myself am having fun with these games at the moment, so do check them out!
Powered by

Sidelines
Previous Post Retro Gaming Style: Space Invaders Business Card Holders
Next Post Medal of Honor: Leave a Message Trailer