Fast & Furious: Adrenaline Review (iPhone/iPod touch)
I'm pimping with my crew, driving fast in my car with the ricer (as opposed to racer, look up urbandictionary.com) do. That was rather embarrassing. In any case, The Fast & The Furious franchise has left a significant impression on street racing (especially with the garish neon lights, paint jobs and wannabe gangsta-rappers), and even more so as the best selling racing game franchise on mobile devices.
I got the chance to play a fair bit of the latest installment to hit the iPhone, Fast & Furious: Adrenaline recently and when you have something of a racing game, you'll always get compared to the giant gorilla in the same room with the name Need for Speed SHIFT (NFSS) hanging from its neck. I know it's frustrating to be compared in such a manner but lets see whether the game can hold up to the challenge.
First up, the game actually looks quite good, but well, not as great as NFSS. The textures may get muddy at times but the environment is nicely detailed with things you might miss since you would be busy with the business of racing and all the weirdness that it will throw at you, which I'll explain in a short while.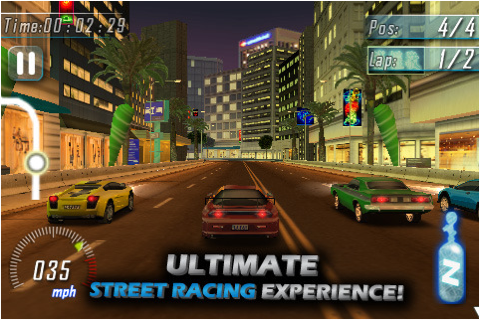 The game's single player mode can be best described as a turf war. You first join a crew and then take the fight to other crews by racing them in street racing events. Winning these events (divided to normal races, drift events, etc) yield territory and points, which can be used to unlock cars and events. I noticed that the game employs an annoying rubberband AI and it came to a point that the key to winning races would be to hit the nitro button before the finish line as an overtaking move because no matter how much you build up a lead, the AI controlled cars will always catch up with you.
Frustrating AI tactics aside, Fast &Furious: Adrenaline offers 3 control schemes. The first one would be to tilt the iPhone to make the car turn left or right. The second option is a virtual steering wheel meant to be maneuvered with just one thumb. Last but not least, players can also tap and hold either side of the screen to make the car turn. All three control options are exercises in frustration and even my control scheme of choice (the third one), can lock up and be unresponsive.
One thing I can do without is all the notification messages coming up on screen during a race. It's an oxymoron to put the terms "speeding" or "jumping" in a racing game, I mean come on, isn't that what we're supposed to do?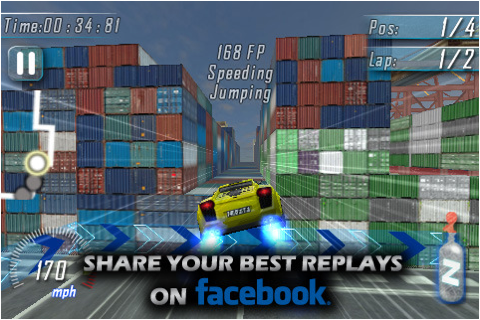 So what does Adrenaline has to offer in order to try and distance itself from being just a mere racing game, besides pretty graphics? The answer would be Facebook. Players will get to post out updates to their respective Facebook profiles from within the game (Adrenaline calls it "bragging") and generally it works.
The game also allows players to post up videos of their races up to their Facebook profiles, but I've yet to get this to work properly as I'm getting plenty of network errors when doing so, regardless whether I'm using EDGE, 3G or WiFi.
Where does this leave us? Fast & Furious: Adrenaline is a decent racer with problems that can be fixed with a patch or two. The social gaming aspect of the game takes a wider approach than that of OpenFeint by implementing Facebook instead, allowing your non-iPhone owning friends to know of your progress in the game. The price tag certainly doesn't hurt its cause and at USD 2.99 present a cheaper but decent alternative to both Need for Speed Shift and Real Racing. Click here to check it out on the App Store.
Powered by

Sidelines
Previous Post Top iPhone Apps to Bring on Vacation
Next Post Play-Asia's Classic Games Sale: Get Retro Games Cheap!