Cryptose Review (iPhone): Cryptogram Fun!
Insurgent Games' latest game for the iPhone, Cryptose certainly doesn't waste time and will have you cracking (how apt, given the nature of the game) in a jiffy, but let's get a little background in.
According to Wikipedia, cryptography is the practice and study of hiding information. This has been around since antiquity, and classic forms of "secret writting" involved "transitional ciphers" which rearranged the order of letters in a sentence, and "substitution ciphers", one that replaced letters with other letters.
If you haven't guest it already, Cryptose is all about cryptograms and while it uses the fairly ancient "substitution cipher" method to leave  you guessing on what the encrypted messages are, it's actually pretty fun. There are three themes to choose from: Detective, Spy or Hacker, but these are simply visual and do not change the gameplay mechanics.
My style of playing the game would be to get a pen and paper to jot down notes and believe me this game will pose a challenge and the end result is pretty satisfying. However, if you do get stuck, the game has provides unlimited hints. Cryptose automatically saves your "work-in-progress" when you exit the game so that your efforts don't go to waste. The game comes with thousands of phrases to decrypt, so there's plenty of value from it's 99 cents price tag.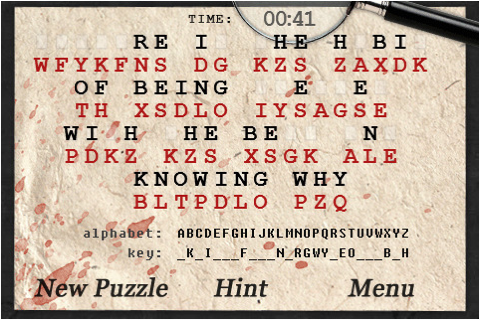 I'm pretty sure that Cryptose would benefit from the implementation of some form of social gaming feature set like OpenFeint. Afterall, what better way to show off your code breaking skills than an online leaderboard and achievements?
In any case, Cryptose is a cool cryptogram game that can keep you occupied for many a afternoon. Click here to check it out over at the App Store.
Powered by

Sidelines
Previous Post BloodnGuns Review (iPhone/iPod Touch)
Next Post Top iPhone Apps to Bring on Vacation