Apple – The Art of Miniaturization
I used to own one of those first generation iPod Minis and it was in pink! Weird choice of colour aside and being all round thick and large by current MP3 player standards, it came with an even bigger AC adapter!
Check out the photo below which I took comparing the iPod Mini's power adapter to that of my old iPhone and my iPhone 3GS' power adaptors. *UPDATE*: One of my colleagues asked whether miniaturization affects the amperage, and the answer is, it does and in a good way too! The 2004 adapter despite its giant size only outputs 0.62 A while the smaller ones output 1A each.*END UPDATE*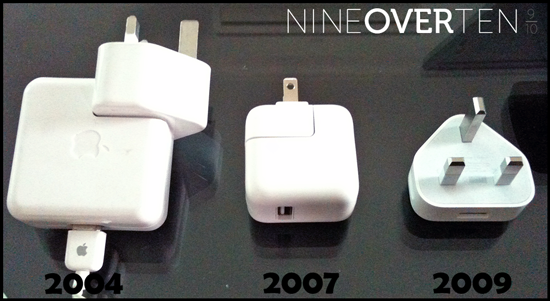 Powered by

Sidelines
Previous Post Chimes (iPhone) Review – Minimalistic Boredom
Next Post Looking for Jobs in Malaysia's Video Game Industry?