Opera Mini Out For the iPhone & iPod Touch – Short Review
What a pleasant surprise, but despite the lack of flying pigs and hell not freezing over, Opera Mini has arrived for the iPhone & iPod Touch with great fanfare. I've downloaded it and immediately noted some cool things that Apple's mainstay Safari browser does not do/have.
First up, the browser IS fast. While page loading can be a subjective thing, zooming in and out feels faster than that of Safari. Notice that when you zoom in on a page, you'll get a semi-dedicated zoom-out button sharing space with the Back button. Tab-browsing is another feature well done with Opera Mini, and speed is the operative word here. It's also so much more convenient than the odd way Safari handles multiple pages.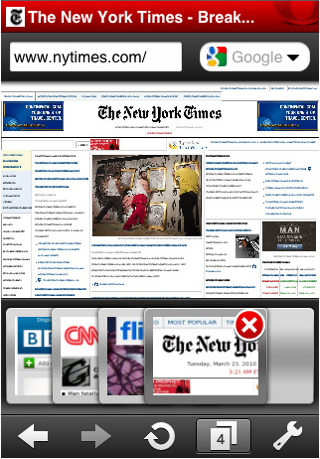 Selecting text not only brings up the option to copy, but also the ability to search using the text either through the default search engine, or via several other search engines.
Clicking on the settings button will yield a plethora of settings. The ability to clear History from the browser itself makes it a self-contained and convenient experience compared to Safari. Not only there's the ability to bookmark pages, you get to save pages to your iPhone too!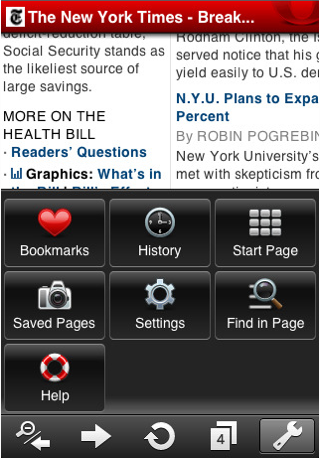 One thing that's conspicuously missing from Safari is a find-in-page function, and Opera Mini brings this feature to the iPhone but with mixed results. For one, I can't scroll the page to look at other terms highlighted by the Find function, and I'm limited to use the Next button to go from one instance of a particular phrase to another.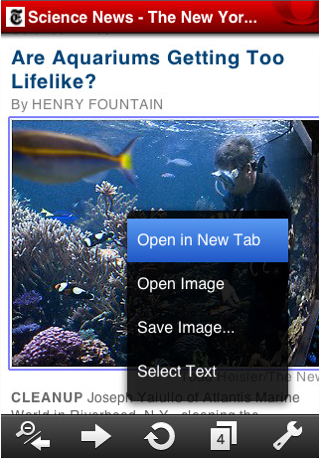 In any case, the browser scene just got bigger on the iPhone with the introduction of Opera Mini. This should create hope that the rest (Firefox, Chrome) will make an effort to be on the iPhone. After all, having plenty of choices is a good thing.
Powered by

Sidelines
Previous Post Game & Watch Devices For a New Generation: Solar Powered
Next Post Apple's Game Center: What Does It Spell For OpenFeint and Gang?