Pocket Legends: MMORPG Comes To The iPhone/iPad With a Bang!
For the past couple of days I've been playing something pretty amazing on my iPhone. Think of an MMORPG like World of Warcraft, but built exclusively to suit the nature of mobile gameplay and you'll have Pocket Legends for the iPhone/iPod touch and iPad.
Spacetime Studio's real-time 3D MMO RPG game distinguishes itself from the rest of the games on App Store by offering a full-featured action role playing game that connects thousands of players over wireless, 3G and EDGE networks.
Designed exclusively for mobile devices, Pocket Legends, combines highly-cooperative gameplay with quick play sessions in a whimsical fantasy universe for a unique approach to mobile multiplayer gaming.
I myself have tried out the game over the wireless, 3G and EDGE and I found the experience across all three mediums very smooth to the point I was thinking, are these people playing AND sitting next to me? Complementing the superb network code are the controls.
I can't tell how skeptical I was when Gary Gittis (co-founder of Spacetime Studios) first e-mailed me about the game. I was thinking man, you are up for a challenge here, especially the network code and controls. The controls turned out to be intuitive and while there's a minor niggle with the character screens (they can be a little unresponsive), in-game controls work!
The game takes place hub-style where you start off at a central location called Towne before heading out to instanced dungeons. Players can hop in or out from a particular question and teamwork can be pretty handy at times.
Check out the screenshots below:
iPhone/iPod touch: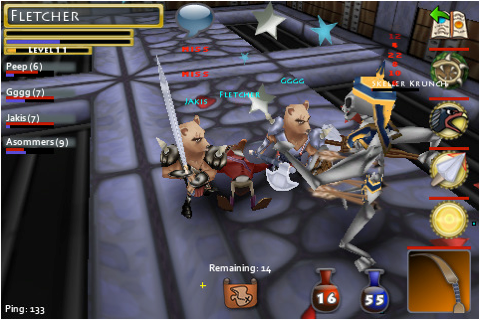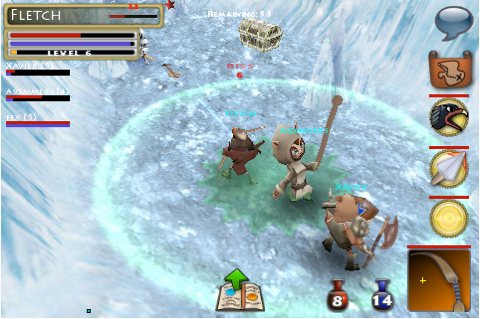 iPad: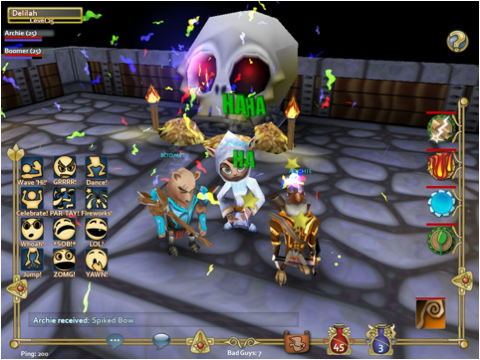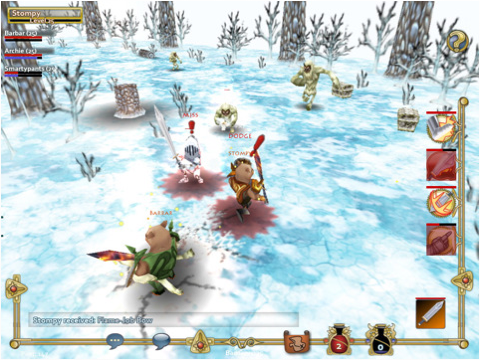 "This product is unparalleled in scope and reach for a mobile game." said Cinco Barnes, Creative Director and co-founder of Spacetime Studios. "Pocket Legends is something never seen before… a true pick-up-and-play MMO that you can play with anyone, anytime, anywhere."
Spacetime Studios has a long history of technological innovation. "We spent years building the Spacetime Engine. Our extensive client/server architecture and development tools were essential to creating a revolutionary product like Pocket Legends." said Anthony Sommers, Technology Director and Spacetime Studios co-founder.
"Now that we have the technology and pipelines in place, we can nurture and expand this product as well as release new offerings in rapid succession." said Gary Gattis, Executive Producer and co-founder. "We believe that mobile multiplayer gaming is the next great frontier, and we are planning on being a big part of it."
Pocket Legends is now available on the Apple App Store for the iPhone/iPod touch (click here) and iPad (click here). Price tag? It's free (do note that the game runs on micro-transactions for items, campaigns, etc).
Powered by

Sidelines
Previous Post Need for Speed SHIFT iPad: This Ain't SHIFT for the iPhone