Diner Dash (iPhone) Review
I watched my girlfriend play Diner Dash for the first time on Saturday, and she promptly blazed through the first 6 levels. Since I'm typically stereotyped as a hardcore gamer and having thought that I understood the mechanics of the game (by watching her play), I confidently decided to review the game by carrying on where she left.
It turned out to be a really bad idea. I was already freaking out within the 1st minute and messing up real bad. Anyways, for those not in the know, Diner Dash can be described as a restaurant management game, and a very good one at that.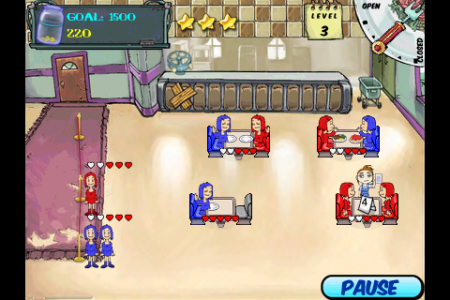 You start off by sitting your customers and using the main character, the feisty Flo, you take down orders, pass them to the kitchen, deliver coffee and food to the tables, collect the checks and drop off dirty plates into the bus cart. Rinse and repeat.
The challenge here is time, the longer your customers wait, the lesser you'll get. Thankfully all you need to do to get Flo to move around is to tap the screen and depending on where she is (the game is context sensitive), she'll proceed to do her task (e.g. tap a dirty table and Flo will proceed to clean it).
While tapping away at the screen does seem easy, the game provides some interesting challenges. Some customers prefer to be seated at certain tables (colour coordination) and a queue will form up sooner than you think since the restaurant has limited seating.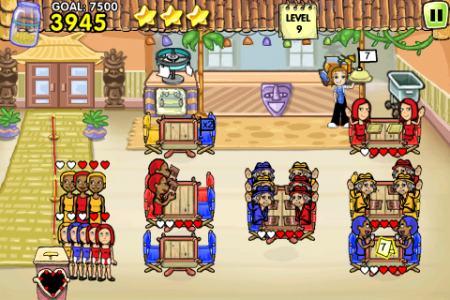 Having played the game, and becoming a spectator in a Diner Class master class done inadvertently by my girlfriend, I came away from the entire experience thinking that Diner Dash is THE model casual game. Easy to play and challenging at the same time, it doesn't patronize gamers and it's addictive!
There's plenty of replay value here with 5 unique restaurants and a total of 50 levels. Otherwise, go crazy with the Endless Shift mode.
PlayFirst, the developers of the game deserves some credit for constantly adding new things to the game, and the game now stands at version 2.2. Diner Dash is available at 80% off on Apple's App Store and is selling for 99 cents. Check it out here.
Powered by

Sidelines
Previous Post Spartacus: Blood and Sand (iPhone/iPod touch) Review