Spartacus: Blood and Sand (iPhone/iPod touch) Review
Spartacus: Blood and Sand is a 3D fighting game for the iPhone and is also a tie-in for a 2010 TV series of the same title. While it may come across as a poor man's Mortal Kombat, the game does throw in some interesting elements in Antiquities combat.
There are several game play modes available in Spartacus. You can opt for a quick fight if you are in a hurry but the Story Mode is where you'll spend most time in. The game pits you against Roman centurions, slaves, pit fighters and gladiators.
The Story Mode chronicles the rise of Spartacus from being captured for mutiny, enslaved, trained as a gladiator and obtaining the title "Champion of Capua".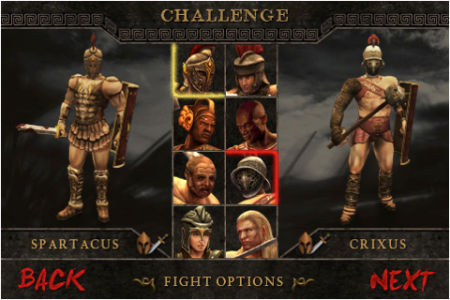 While the move list can be comprehensive, there's no better way to approach the game by hitting your opponent repeatedly. Should he try to block, just change the direction of your swing (counter a high block with a low hit).
2-player games over WiFi or Bluetooth are a different matter altogether as timing your blocks and your swings take precedent. Graphics wise, the game looks rather pretty; character models are surprisingly good looking and as the title implies, there's plenty of blood in the game.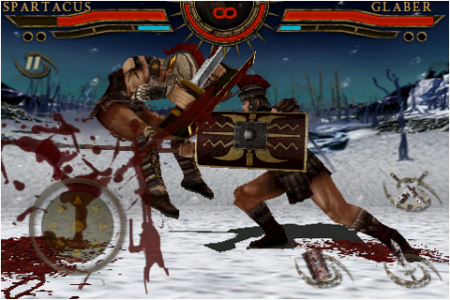 The game borrows plenty from Mortal Kombat, the most glaring one being the finishing moves (and the announcement to finish your opponent) that make Ludicrous Gibs out of your opponent.
As a game, Spartacus can be a mediocre experience if you are playing on any of the single player modes. On the other hand, as a tie-in, it's pretty effective, using cut-scenes taken from the series. It was an incentive for me to finish the entire Story Mode just to watch all of the cut-scenes.
Spartacus: Blood and Sand is now available on Apple's App Store for USD 2.99. Check it out over here.
Powered by

Sidelines
Previous Post Super Monkey Ball 2 Rolls into the Apple iPad
Next Post Diner Dash (iPhone) Review