Konami Releases Frogger Arcade Game for Facebook
I don't like Farmville, and neither do I like games like Restaurant City on Facebook. Thankfully, Konami had the good sense of bringing the classic arcade title, Frogger to Facebook. Yup, you read that right, you can play the game from the comfort of your Internet Browser and your Facebook profile.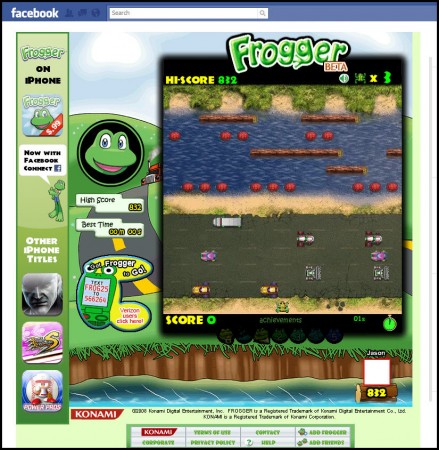 Excited over some retro fun? Check it out over here: https://apps.facebook.com/konamifrogger/ and hopefully this will be the start of many other arcade conversions. The following is a press release from Konami with further details:
FROGGER NOW INTEGRATED WITH FACEBOOK CONNECT
Konami Brings Classic Arcade Franchise to Facebook Users for First Time
El Segundo, Calif. – March 10, 2010 – Konami Digital Entertainment, Inc. today announced the launch of an updated version of the smash arcade hit Frogger with Facebook Connect. Frogger will give Facebook users the opportunity to track game scores, play against others, and follow friends and family on the Frogger Leader Board.
The launch of Facebook Connect for Frogger brings players the latest version of the 28-year-old successful series that challenges players to safely guide Frogger across the highway, while avoiding oncoming traffic and alligator filled streams.
"We recognize that staying connected and sharing is a big part of the Frogger community," said Joe Morris, Konami's Vice President of Mobile Content and Social Networking. "Our Frogger fans have shared their ideas, and we are committed to implementing their suggestions into the latest rendition of one of the most popular video game franchises."
Frogger will be Konami's first title integrated with Facebook Connect, providing players with an all-new element of social gaming with their Facebook friends. For more information please visit https://apps.facebook.com/konamifrogger/.
Powered by

Sidelines
Previous Post Battlefield Bad Company 2: Battle for PAX Tourney is On!
Next Post Oberon Media Brings Social Connectivity to Smartphone Games