Knife Toss (iPhone/iPod touch) Review
Do you know what the movies "It" and "Zombieland" have in common? They give clowns a bad name. Knife Toss, for the iPhone/iPod touch, will do the same too, as it won't take long for you to mutter "Hold still you damn clown".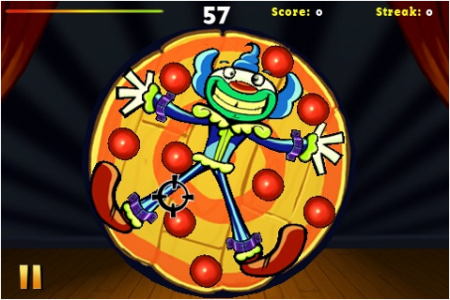 But it's not entirely the clown's fault, as he is strapped down on a rotating, clown-sized dart board along with a bunch of balloons and you are supposed to toss knifes at the board to pop 'em balloons, not the clown, just like in the circus act.
To do so, Knife Toss makes good use of the iPhone's accelerator; you tilt the device in order to move the crosshairs and tap on the screen to throw the knife. Hitting the balloons net you points, but if you hit the clown, let's just say he has a health bar.
Do note that you can't take your own sweet time popping out the balloons as you also have to beat the clock, so things do get hairy (in a good way) in later levels. Score and achievement freaks would be glad to know that there's OpenFeint included in the game.
Here  are my pointers on how  to be successful at Knife Toss:
Be stationary. Don't play the game in a moving vehicle.
Cut the glare. Play somewhere where light doesn't bounce of your iPhone's screen when tilting the device.
Clean screen. Having a clean screen (you know how oily the screen can get pressing it against your face while on the phone) is better especially when you are tilting the phone a lot.
Knife Toss is a pretty fun game to play, and while it's just a game, it would be good to remind kids that tossing knives at real clowns would a really bad thing to do :). Knife Toss is now available on the App Store for just 99 cents, click here to download.
Powered by

Sidelines
Previous Post Clay Hunt (iPhone/iPod touch) Updated to V1.2!
Next Post Artist Colony (iPhone/iPod touch) Released: Win iTunes Gift Cards in Sweepstakes!