Battlefield Bad Company 2 Hits Download Record!
Here's a video game trivia question for you. What game is set to have the fastest downloaded demo in EA's history? If you answered Battlefield: Bad Company 2, well, give yourself a pat on the back because you are right!
This kind of reception (with over 2 million PSN and Xbox Live downloads put together) will definitely result in cash registers ringing when the full game comes out in March 2010. I've played the demo on the PS3 and it's pretty crazy out there, like Quake Wars, and you really have to experience it for yourself.
Check out the following Press Release from EA on BC2's record breaking demo run.
Battlefield: Bad Company 2 is on Pace to Become the Fastest Downloaded Demo in EA History
STOCKHOLM, Feb 11, 2010 (BUSINESS WIRE) — DICE, an Electronic Arts Inc. studio (NASDAQ:ERTS), today announced that Battlefield: Bad Company 2 is on pace to become the fastest downloaded demo* in EA history. Battlefield: Bad Company 2 continues to dominate online multiplayer gaming with over 2M demo downloads across Xbox LIVE(TM) and the PlayStation(R) Network (combined) in the first five days of availability.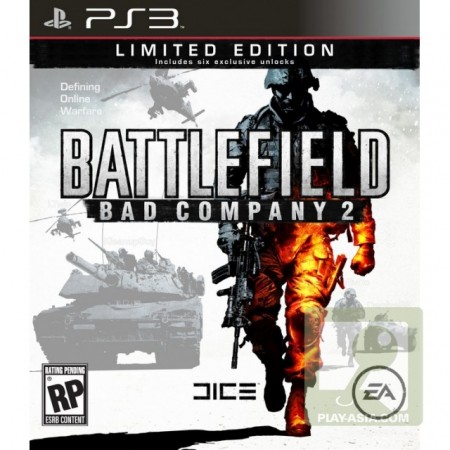 The recently launched PC beta has also met great success, with hundreds of thousands of players already signed up. With the huge popularity of the Xbox LIVE and PlayStation Network demo and the PC beta, Battlefield: Bad Company 2 is positioned to be the premier first person-shooter of 2010 when it hits stores on March 2nd.
"We couldn't be more thrilled to hear that Battlefield: Bad Company 2 is already in the hands of almost 2½ million gamers, and it hasn't even shipped yet," said Patrick Bach, Senior Producer on Battlefield: Bad Company 2.
"This massive rush to experience the game early is proof positive that action gamers are looking for more. Battlefield: Bad Company 2 delivers on every front. This is intelligent, strategic warfare that our competitors simply cannot replicate."
Battlefield: Bad Company 2 will be in stores on March 2, 2010 in North America and March 4, 2010 in Europe for the Xbox 360 (R) videogame and entertainment system, PlayStation(R)3 computer entertainment system and the PC. The Limited Edition can be pre-ordered now on all platforms at no extra cost, with participating retailers worldwide (while supplies last).
For more information on DICE, please visit www.dice.se. For more information on Battlefield: Bad Company 2 please visit: www.badcompany2.ea.com. Or follow us on Twitter at https://twitter.com/OfficialBFBC2.
* Internet connection required. Demo will end on February 25, 2010.
Powered by

Sidelines
Previous Post Going Sideways on Outrun Online Arcade