EasyMix hiphop Comes to the iPhone/iPod touch
It looks like the music app scene on the iPhone/iPod touch just got a little more crowded with the introduction of EasyMix hiphop. I'm already a firm believer in the GrooveMaker line of products, but I don't mind checking out the competition.
In any case,  here's the app description that I got from the guys behind EasyMix:
EasyMix hiphop at 99 cents
EasyMix hiphop is the only mixer or DJ application on Apple's App Store that allows anybody to mix high quality and professional sounds on iPhone/iPod touch for just 99 cents. No music or computer skills needed, it will get your friends dancing to your mix in no time.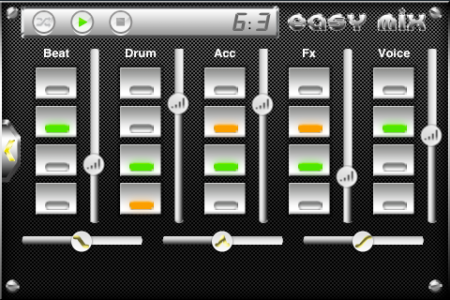 With EasyMix hiphop you do not have to care about timing, rythm and synchronization. EasyMix hiphop does that for you! Just change the sounds when you feel like it and everything is synchronized automatically. Unlike other mixer apps, the samples in EasyMix are not short extracts, but high-grade, professional loops at 44.1kHz/16 Bits containing loops of beats, synths and bass.
Using the multi-touch capabilities of the iPhone, you can control the volume of each track and mix like a DJ in real-time with the 3 bands equalizer. Visit our blog to look at other versions of EasyMix and demos: https://buzzyteam.free.fr/
The original version of EasyMix is available with 5 more styles, namely techno, trance, disco, breaks and progressive house.  The free version of EasyMix is also available from the App Store with only one style and live mixing. The free app also features monthly updates provided by our partners at Loopmasters, letting you get a taste of some of their fantastic samples.
EasyMix hiphop features:
Professional high quality loops (16 bits /44,1 kHz) from www.LoopMasters.com
Live DJ music
Unique synchronization mechanism producing perfect flow in the music
Multi-Touch volume control for each individual track
3 band equalizer
Random mode to let the application choose and mix loops
Powered by

Sidelines
Previous Post Get Cheap Video Games At Play-Asia's Lunar New Year Sale
Next Post iPirate (iPhone/iPod touch) Review