Battle of the iPhone Geometry Wars Clones
Geometry Wars was one heck of a shmup. The art style, an amalgamation of the old Asteroid style line art with neon aesthetics helped sealed its status as one of the best looking games I've played.
It goes without saying that imitation is the best form of flattery for Geometry Wars, with the myriad of clones available particularly on the iPhone. Who could forget the Geometry Wars inspired Tower Defense game, the aptly named geoDefense?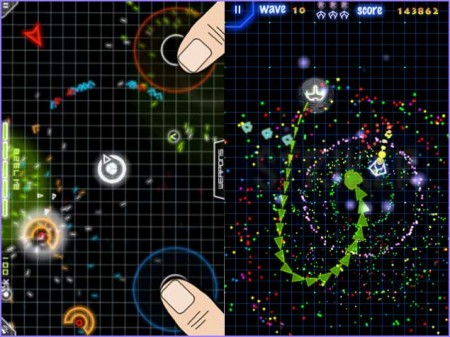 I had the good fortune of downloading two Geometry Wars inspired shmups recently. On the left, it's geoFighter – Light Wars, and on the right, it's Retro Fighter. They could have been better named but both are suprisingly good shooters on their own merits.
Of the two, geoFighter has a closer resemblance to Geometry Wars in both the gameplay and looks departments. You pilot a single ship using the left virtual D-pad for movement and the right virtual D-pad to control the directions of your shots. Weapons can be switched while different types of enemies provide a tough challenge, particularly through the Wave mode.
Retro Fighter however has more in common with shmups like Raiden in  terms of gameplay, and as a result, there are plenty of pretty looking explosions. The menu system might be a little over the top, but the graphics and the gameplay make this an arcade favourite on the iPhone.
geoFighter is no longer available for free, having gone back to its original selling price of 99 cents (click  here to purchase). You can still get Retro Fighter for free, but I'm pretty sure it's a time limited offer, so better hurry (click here to download).
Powered by

Sidelines
Previous Post vParticle (iPhone/iPod touch) Now Available for Free!
Next Post Disney's Digicomics Launches New Content for the iPhone/iPod touch