Fall in Love Again with a Fresh Diner Dash Update for iPhone
PlayFirst has primed a fresh new update to Diner Dash®, the critically acclaimed time-management game for the iPhone® and iPod touch®. Since launching in the App Store in 2008, over one million people have played Diner Dash on their iPhones and iPod touches. The Diner Dash update offers a full menu of additions and improvements, providing old and new fans alike with a fresh serving of Diner Dash while on the go.
Starring PlayFirst's iconic entrepreneur and world-famous diner maven, Flo™, the new Diner Dash update re-imagines the original title, serving up new additions and levels with optimized graphics that make everything from the restaurants and characters, to the dishes themselves shine like never before.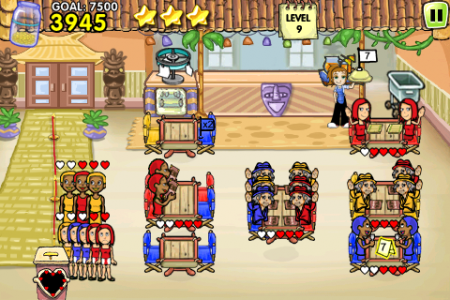 Just in time for the Valentine's Day rush, the update will also offer a new, iPhone-exclusive restaurant called Romantic Rendezvous for in-app purchase. This new restaurant will feature ten "Snack Pack" bonus levels where players can transform a run-down café into the perfect place for Valentine's Day dates. To further set the mood, players can place beautiful bouquets of flowers on tables for bonus points.
"Diner Dash on the iPhone and iPod touch has been a big hit with mobile gamers and fans of the Diner Dash series," says Chris Williams, Senior Product Manager of PlayFirst. "With the new Diner Dash update we're giving players more of what they love about the series: the ability to tap, touch or slide their fingers to seat and serve customers on their way to restaurant renown, improving the landscape of time-management games in the mobile space."
The update also serves up refined controls, offering greater flexibility for players of all skills and gaming preferences.  iPhone fanatics will also now be able to share their culinary accomplishments with friends by using the new Facebook functionality, allowing players to post high scores to their Facebook pages.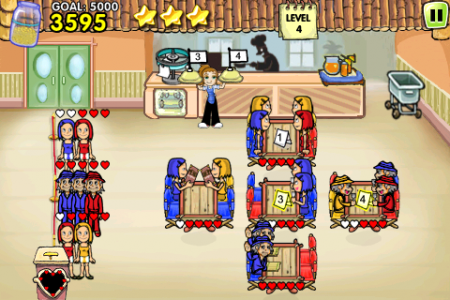 The Diner Dash franchise originally debuted as one of the top-selling downloadable games of 2004 and has since become one of the most successful brands on multi-platforms including iPhone, iPod touch, mobile, Xbox Live Arcade, PlayStation Network, WiiWare and Nintendo DS.
PlayFirst recently announced Diner Dash 5: BOOM!, the fifth major title in the award-winning series that will be available February 18, 2010 on PlayFirst.com with a special commemorative edition, Diner Dash 5: BOOM! The Collector's Edition.
Diner Dash for iPhone and iPod touch is developed and published by PlayFirst. The full Diner Dash game will be available in early February for purchase in the App Store. Customers who have previously purchased Diner Dash for the iPhone or iPod touch can download the new upgrade for free.
Powered by

Sidelines
Previous Post Poker Tower (iPhone/iPod Touch) Review
Next Post Independent Games Festival Honors iPhone Developer Appy Entertainment