How Do You (man)Handle Your Video Game Controller?
I didn't have a lot of experience playing in cybercafes when I was younger and because of that, I wasn't really familiar with using the letters WASD on the keyboard as arrow keys. The advantages of the WASD keys are pretty obvious, particularly in shooters that sport a keyboard+mouse control combination.
Using the WASD keys for movement also allow access to the spacebar also much shorter travel to the numeric and function keys, two things that can be found wanting if you use the arrow keys instead.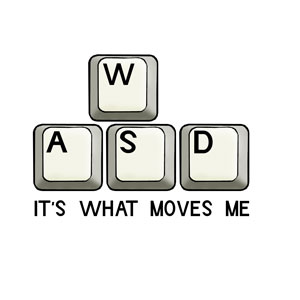 Just when I thought that arrow keys usage was archaic (even I don't use all of 'em in a racing game, just the left and right ones), I bore witness to a friend of mine who was using an Xbox 360 controller cross-handed while playing Street Fighter 4, simply because he was accustomed to using his right-hand to control the arrow eyes when playing Street Fighter on the PC!
I didn't take a picture (it was a lazy Saturday morning), but hey, if you have a method of using a video game controller which in considered unorthodox, feel free to put it up in the comments area. I myself used the DS3 like an arcade stick (before I bought a real arcade stick) when I'm playing King of Fighters XII.
*picture taken from  shirtshirtshirts.com
Powered by

Sidelines
Previous Post The Eagle Ranch
Next Post Today's Free iPhone Games (24th January)