Jenga? It's Stackus for the iPhone/iPod Touch
Monkey see, monkey do. Well not really when it comes to for the monkey in Stackus for the iPhone, as he is a snarky little fella who will most certainly want to see you fail in the many levels in the game.
Stackus, is little bit like a game of Jenga. Dubbed a physics based puzzle game, the objective is move a bunch of blocks from the left side of the screen to the right side, while ensuring that the blocks do not slip and fall off the screen.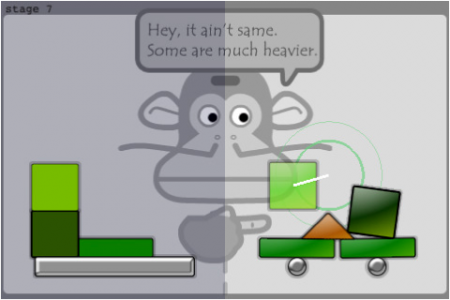 Pulling out a block on the left side may lead to other blocks sliding in place or the opposite: slipping out and falling off. This makes Stackus, like Jenga, a pretty heart stopping game. I can't believe the number of times I said "no, no, no…." when my balancing act with the blocks on either side failed.
Blocks on the right side are unmoveable once placed, but wrong placement can result in the block sliding off or a domino effect of crashing blocks). The game has plenty of legs, with 50 stages to unlock and play. At USD 1.99, the game should keep you really occupied on lazy afternoons or keep your mind active to prevent the onset of Alzheimer's.
Check it out over here at the App Store. I wholeheartedly recommend it.
Powered by

Sidelines
Previous Post Fancy a Virtua Tennis 2009 Sports Towel?
Next Post X-Men Origins: Cyclops #1 – Interesting